Skyrim:Vlindrel Hall
The UESPWiki – Your source for The Elder Scrolls since 1995
This article is being developed as part of the Skyrim Houses Redesign Project. If you see this tag it means the article can still be improved. Please see the project page for guidelines.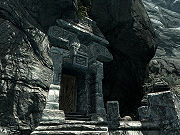 Vlindrel Hall is a house available for purchase in Markarth.
To purchase the home, the player must first complete the quest Dungeon Delving. The player must be level 20 to receive this quest. Upon completion he will permit you to purchase the house from Raerek for 8,000 gold.
Once purchased, Raerek will provide a book, Markarth Home Decorating Guide, which details the various house upgrades available from him, for a final cost of 12,200 making it the third least expensive house, just behind Honeyside.
After completing The Forsworn Conspiracy and No One Escapes Cidhna Mine you may not be able to buy this house because there will be no dialogue option to do something for the Jarl of Markarth. If you had completed those two quests before you were level 20, there is a way to buy the house. During the main quest (quest Season Unending), General Tullius and Ulfric Stormcloak fight about exchanging some territories including Markarth. If the Stormcloaks take the Reach, Thongvar Silver-Blood will become the Jarl of Markarth. He will offer you the possibility of becoming thane and the option of buying a house in Markarth.
[edit]
NPCs Living Here
[edit]
Costs and Upgrades
Vlindrel Hall

Home and Upgrades
purchased from
Raerek or Reburrus Quintilius
Price to purchase home
8,000
Housecarl
Argis the Bulwark
Total cost of all upgrades
4,200

Upgrades

Bedroom furnishings

Living room furnishings
Alchemy laboratory

Enchanting laboratory

Entrance hall

Child's Bedroom†HF
Housecarl's Quarters

800 gold

900 gold

1000 gold

1000 gold

500 gold

700 gold

Become Thane of the Reach

1 Bed
1 Chest
4 Cupboards
2 Wardrobes
2 Shelf stands (2 shelves)
1 Shield plaque
2 Display cases
1 Table
4 Chairs
1 Dresser
1 Shelf
8 Rugs

9 Chairs
3 Tables
1 End Table
1 Dresser
1 Cupboard
3 Bookshelves (3 shelves
holding 18 books each)
2 Shelf stands (3 shelves)
1 Display case
8 Rugs

1 Alchemy Lab
1 Shelves
1 Chair
1 Stool
1 Rug
2 Barrels

Harvestable plants:
1 Garlic
2 Dried Frost Mirriam
2 Dried Elves Ear

Harvestable animals:
1 Pheasant
2 Rabbit


1 Arcane Enchanter
2 Weapon plaques
1 Shelf
2 Shelf stands (3 shelves)
2 Weapon racks (2 slots)
2 Shield plaques
1 Mannequin
1 Rug

2 Rugs

Harvestable plants:
2 Gourd
1 Red Mountain Flower
1 Lavender
1 Snowberries
2 Jazbay Grapes


1 Bed
1 Table
1 Chair
1 Dresser
1 Cupboard (2 shelves)
3 Rugs

Adopted children living here will have unique dialogue comments about Markarth:

I climbed all the way up to the temple, but they said I wasn't old enough to get in. They're just mean. (girls)
Banning said I could come play with his dogs. I want a dog. (girls)
Aicantar let me see his museum. It's really nice. (boys)
I hate Markarth. There's nowhere to play! It's all just rocks. Rocks rocks rocks. (boys)

Vlindrel Hall can be bought alternatively after completing the Stormcloak quest "The Battle for Fort Sungard"
There are a few bugs which affect all houses, see the bugs section of the Houses page for details and fixes.
Filling the bookshelves with books and then quickly exiting the menu may result in the books disappearing forever.
Do not speak to Steward Raerek unless you have 8,000 gold. Speaking to him and not buying the home immediately has caused many players to lose the option to buy Vlindrel Hall forever.

This can be fixed by entering setstage Favor250 10 in the console. The dialogue to become thane will reappear if you talk to Jarl Igmund, and once you are thane, the option to buy the house appears from his steward.
If the above solution doesn't work, you can enter setstage Favor250 15 which will advance the quest to the "help x citizens" stage. Speak with the jarl to become thane and afterwards speak with Raerek. The option to buy the house should re-appear.
This can also be fixed by doing another quest to help a citizen of Markarth if one becomes available, speaking to Banning and delivering Beef for him should open up the option to buy the house again, unless you have already done this task. [verification needed — see talk page]
[edit]
Gallery