Skyrim:Igmund
The UESPWiki – Your source for The Elder Scrolls since 1995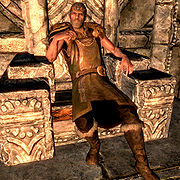 Igmund is a Nord barbarian who rules the city of Markarth as jarl with assistance from his steward and uncle, Raerek. He is supportive of the Imperial Legion in the current civil war.
When discussing the city's history under his father's leadership, Igmund reveals that when Cyrodiil was invaded by the Aldmeri Dominion during the Great War, the Empire began ignoring all other provinces and were forced to deal exclusively with the war. Because of this, the Imperial Legionnaires in Markarth were recalled, leaving the city vulnerable to the impending Forsworn rebellion. With no Legion to assist the besieged city, it fell temporarily and created a brief "independent kingdom." After the Great War, the Empire sought to reclaim the Reach. With no other options, the Empire and Jarl Hrolfdir established a militia to reclaim the Reach, offering them religious freedom in exchange for their aid in overthrowing the independent Forsworn empire. Ulfric Stormcloak was one of the members of the militia. However, the Thalmor discovered this, and demanded the arrest of Ulfric and the other members of the miltia, since they were in violation of the White-Gold Concordat.
The Thalmor placed political pressure on Igmund's father, effectively forcing him to turn over Ulfric, in order to preserve the new-found peace the Empire had with the Dominion. Igmund followed in his father's footsteps when he became the new Jarl of Markarth, after the Forsworn murdered his father, and he firmly believes that the arrest of Ulfric and the Nord miltia was in the best interests of Skyrim and her people, in order to prevent another war with the Thalmor.
Igmund wears embellished robes, a pair of fur-lined boots, and a copper and sapphire circlet. He is equipped with a steel sword and a steel shield, and carries a selection of upper-class loot and gold.
[edit]
Related Quests