Skyrim:Aicantar
The UESPWiki – Your source for The Elder Scrolls since 1995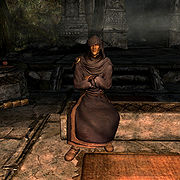 Aicantar is an Altmer conjurer, and is the nephew of Calcelmo.
Like his uncle, Aicantar is heavily involved in Dwemer research, where he often spends time by his uncle's side or, in some cases, in Calcelmo's Dwemer museum.
He wears blue mage robes and a pair of boots, and is equipped with an iron dagger. He carries a key to the Dwemer Museum, a key to Nchuand-Zel, and a selection of common loot and gold.
[edit]
Related Quests
NOTE:
Some radiant quests have a nearly unlimited list of possible quest targets, or can be randomly initiated by nearly any NPC in the game. These quests are not placed on individual NPC pages, and are instead listed at
radiant quest NPCs
.
[edit]
Spells
Aicantar knows the following spells:
During the quest Hard Answers Aicantar may be present at Calcelmo's laboratory and will also arrive with Captain Aquilius and two Wizard's Guards after you have duplicated the writing on Calcelmo's Stone. All will be hostile to the player upon sight, but Player may choose not to engage Aicantar and run to the exterior cell (Markarth) and Aicantar will not follow. After Hard Answers quest is finished, he will join Calcelmo in Understone Keep and will not remember player trespassing and killing in the laboratory.
Aicantar is identified as the backup Court Wizard, in case Calcelmo dies. However, since Calcelmo is essential, Aicantar never provides merchant services during normal gameplay.
Aicantar if thralled and lost may reappear from thin air and drop dead after Hard Answers is complete.