Skyrim:No One Escapes Cidhna Mine
The UESPWiki – Your source for The Elder Scrolls since 1995
This page is currently being rewritten as part of the Skyrim Quest Redesign Project.
The page is being rewritten and checked in several stages. All users are welcome to make changes to the page. If you make a change that is relevant to the project, please update this template accordingly, and make sure you have observed the project guidelines.

[edit]
Quick Walkthrough
Complete The Forsworn Conspiracy and go to jail.
Brawl, bribe, and/or lie your way into a meeting with Madanach.
Follow Madanach's instructions and escape with the rest of the prisoners, or kill Madanach and escape on your own.
[edit]
Detailed Walkthrough
[edit]
Gather information
After completing the quest The Forsworn Conspiracy and choosing to go to jail, you will arrive in Cidhna Mine and will be informed by Urzoga gra-Shugurz that you will have to mine for your freedom. Your journal will inform you that you have to find Madanach, also known as the King in Rags. Head through the gate, walk down the wooden platform, and go to the miner Uraccen, who is sitting by the fire. Talk to him.
He will say that you won't be able to speak with Madanach unless you can get past the orc Borkul the Beast, who is standing outside a gate. Speak to Borkul and he tells you to get him a shiv. As alternatives to his request, you can brawl with him, pass a speech challenge, or pickpocket the key from him. To get a shiv, talk to Grisvar the Unlucky, who will ask for a bottle of skooma. To get the skooma, you have to find Duach and pass a speech challenge, win a brawl, or pickpocket him. Take the skooma to Grisvar, who will give you a shiv. If you want to keep the shiv, then you can still attempt the alternatives to completing Borkul's request. You can pickpocket an additional bottle of skooma from Duach and bribe Borkul with it.
Alternately, you can also start a battle with the Forsworn prisoners (attack anyone but Grisvar). This locks you into killing Madanach as he becomes hostile. This fight can be difficult; you have no armor, no enchantments, and your only non-conjured weapons are pickaxes and possibly shivs. Once you've won, then loot the key off Borkul's body, and proceed to kill Madanach per the next section. If you do plan on slaughtering your way out, being a Werewolf can help out a ton. Since no one has any armor, you will dish out a lot of damage. Make sure you try and set up a choke-point since all at once, they can still overwhelm you, but one on one, or one on two, you will decimate them. Also, if you do plan on going Werewolf and massacring everyone, get the key from Borkul first. This allows you to open the door first and kill Madanach while a Werewolf. It also helps if Borkul is accidentally knocked into the terrain when fighting as a Werewolf, thus preventing him from being looted.
[edit]
The King in Rags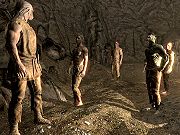 Once you get past the Orc, you will see Madanach sitting at a desk. If you cooperate, he will ask you to talk to Braig and hear his story. After you have listened to it, return to Madanach and tell him you spoke to Braig. He will promise to help you escape, but only if you prove your loyalty to him by killing Grisvar the Unlucky. If you gave your shiv to Borkul, you can get a new one from Madanach at this point. Find Grisvar and kill him. If you tell him that "Madanach says hello", he will eventually become hostile and everyone else will try to kill him so you don't have to. Once he's dead, return to Madanach, who will declare you an honorary member of the Forsworn and lead the prisoners to the escape tunnel.
Alternatively, you can kill Madanach at any time and escape on your own. If you want a fair fight, you can tell him you plan to kill him; otherwise, just attack him. Attacking him will make all of the other prisoners hostile (except Grisvar), but as long as they are out of range, they will not rush in to join the fight. Search Madanach's body for a key and a note, then unlock the gate and exit the prison.
Note that some of the townsfolk may be hostile to the Forsworn and can be killed during the breakout. Timing your escape for early morning hours will reduce the amount of casualties to almost zero.
[edit]
Escape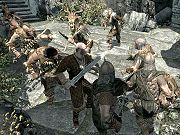 If Madanach is still alive, follow him and the Forsworn through the tunnel to Markarth Ruins. As you make your way through the ruins, you will encounter first a pair of frostbite spiders, then one or two Dwarven Spheres. If you're on your own, you can sneak off the bridge onto the floor below, as fighting them alone will be quite difficult without any of your normal equipment. Once past the automatons, continue through the ruins until you reach a short tunnel that leads to a door to Markarth. If you sided with Madanach, a Forsworn woman named Kaie will be there to return your confiscated goods and give you the Armor, Boots, Gauntlets, and Helmet of the Old Gods. The Forsworn will all equip armor and run out; when you follow them through the door, you will emerge into a confrontation between the Forsworn and Thonar Silver-Blood, accompanied by a Markarth City Guard. After a short conversation, Madanach and the Forsworn will attack and kill Thonor, then fight their way through the rest of the city guard to the gates, where any surviving Forsworn will exit and escape. Madanach and any remaining Forsworn will then run to Druadach Redoubt, where they will take up permanent residence. If you are on your own, just exit; if you killed Madanach, Thonar will return your equipment and give you the Silver-Blood Family Ring. No matter which approach you used, you will be pardoned.
From now on, the Forsworn whom you meet in Skyrim will not attack you on sight, but will give you a warning to stay away. Madanach's Forsworn at Druadach Redoubt will remain friendly to you if you sided with him.
Many NPCs can easily be killed in the battle between the guards and the forsworn. One tip to avoid this is to wait until night before escaping so that most NPCs are asleep.
If you side with Madanach, he gives you all your non-quest items at the exit of the ruin. You will receive all your quest items after Madanach has finished his dialogue with Thonar and started fighting.
Your stolen items will be returned.
Once either Madanach or Thonar returns your items to you, then individuals will act as if you helped that individual, regardless of whether or not you killed him after receiving your items.
If you don't kill Madanach, you can follow him and his men after escaping Markarth. They will lead you to Druadach Redoubt, a Forsworn encampment and cave that is now friendly.
Escaping from Cidhna Mine during this quest does not add to "Jail Escapes" statistic, nor will it grant you the Wanted achievement.
The inhabitants of Cidhna Mine are all scripted to die if you decide to kill Madanach in his cell and escape from the mine alone.
After running through the ruins with Madanach and acquiring the Armor of the Old Gods, you can talk to him and stall him as the other Forsworn escape. Then you can kill him and exit, leading to Thonar giving you the Silver-Blood Family Ring too after all the Forsworn are either dead or have escaped. Thonar will not be killed by the Forsworn.
If you decide to kill Madanach after siding with him, the Forsworn will not report your crime, but citizens of Markarth will.
This quest counts towards the Sideways achievement regardless of whether you choose to help or kill Madanach.
Vigilant Tyranus, required for the quest The House of Horrors, will never sleep and will thus attempt to attack the Forsworn. As he is essential but weak, he can get stuck in a fight and thus cause the battle to last much longer than necessary, so it is advised to begin his quest in order to remove him from the streets.
Even if you side with Madanach, the other Forsworn outside Druadach Redoubt will remain hostile.
The Markarth Ruins remain accessible after this quest; however you cannot sneak back into the mine this way as the way back into Madanach's cell is closed off.
Sometimes when you arrive in Cidhna mine everyone will attack you.
Sometimes, the quest will not start or progress. The quest may also notify you that a stage is complete without updating your journal. Specific instances include the following: ?
If you pickpocket the note from Madanach, then later kill him, the quest will update to 'Search Madanach's body' (stage 200), but even when you loot all items, it will not progress to the next stage 'Read Madanach's note'. ?

To fix, place Madanach's note back on his body, and pick it up again.
If you have read Madanach's note at any stage before looting it as part of the quest, the quest will not update further. Fixed by re-loading an earlier save.

After escaping and having killed Madanach, Thonar will attack you without any dialogue. Note that he can't be killed, as he is an essential NPC. ?

To fix this, try running out of Markarth and exiting combat with Thonar and any guards who may have tried attacking you along the way. Wait 24 hours before re-entering the city. Once you've re-entered Markarth, head to the doors you escaped from to initiate the intended dialogue with Thonar.

There is a dead body in the water in Markarth. Forsworn may turn him into undead. The ash pile of him will never be cleared even when the Reach resets. The ash pile of Thonar will also remain for the rest of the game. ?
Once the quest has been completed, you can return to Cidhna Mine, but it is possible that all the ore veins will now behave like beds. ?
After finishing the quest by following Madanach out of the mines and immediately waiting for an hour, Madanach and the Forsworn should be gone and no one should have died. Thonar should be alive in the Treasury House. This prevents anyone from dying and can therefore be seen as a beneficial bug. ?

Entering and exiting the ruins right behind you while Madanach and Thonar are talking will achieve this same result.
If you do wait for an hour, none of the NPCs say that you were involved with Thonar or Madanach, only that it was Madanach behind the murderers and that the Forsworn have killed so many people.

You may not be pardoned when the quest ends, leading to very confused guards who don't have a jail to put you in. ?
If the quest Rebel's Cairn is active, then during the jail term, Red Eagle's Fury will be equipped; it is not shown in your inventory but can be used. ?
Killing everyone in the mine prior to this quest will cause the quest to be uncompletable, as the mine does not respawn. ?
[edit]
Quest Stages
No One Escapes Cidhna Mine (MS02)
Stage
Finishes Quest
Journal Entry
5
I'm imprisoned inside Cidhna Mine, framed for Eltrys' murder. I have to find Madanach, the King in Rags, and clear my name.


(Objective is assigned): Ask a prisoner about Madanach

10
(Objective is assigned): Get past Borkul the Beast
25
(Objective is assigned): Talk to Madanach
30
(Objective is assigned): Hear Braig's story
40
(Objective is assigned): Return to Madanach
50
(Objective is assigned): Kill Grisvar the Unlucky
60
(Objective is assigned): Return to Madanach
70
(Objective is assigned): Follow Madanach
100
I have helped Madanach escape Cidhna Mine, and he and his Forsworn have taken credit for all my past crime, clearing my name in the Reach.
200
(Objective is assigned): Kill Madanach
210
(Objective is assigned): Search Madanach's body
220
(Objective is assigned): Read Madanach's note
230
(Objective is assigned): Escape Cidhna Mine
250
Thonar Silver-Blood has granted me a pardon for killing Madanach. My name has now been cleared in the Reach.
The following empty quest stages were omitted from the table: 0, 20, 55, 75, 77, 80.