Skyrim:Thonar Silver-Blood
The UESPWiki – Your source for The Elder Scrolls since 1995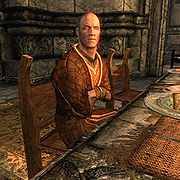 Thonar, a Nord warrior, is one of the most influential members of the Silver-Blood family, with ties reaching far beyond Markarth, where he resides and where his family is based.
It becomes quite clear that he has a considerable influence over the Reach and Markarth when Ainethach remarks that "The Silver-Blood family owns half the Reach and they won't stop until they own all of it." Yngvar the Singer will also tell you that "when the guards make an arrest they check with the Silver-Bloods first".
Thonar's wife will also remind you that "We are the only family worth knowing in The Reach."
If you escape from Cidhna Mine alone after killing Madanach, he will greet you at the exit of Markarth ruins and give you his family ring as an apology. He will also reveal that his real intention was to have Madanach killed for having his wife murdered. However, if you side with Madanach, he will attack Thonar as the two of you exit the ruins.
He wears a set of fine clothes and a pair of fine boots, and is equipped with an steel sword. He carries a key to the Treasury House and a selection of higher-class loot and gold.
[edit]
Related Quests