Skyrim:Cidhna Mine
The UESPWiki – Your source for The Elder Scrolls since 1995
This article is being developed as part of the Skyrim Houses Redesign Project. If you see this tag it means the article can still be improved. Please see the project page for guidelines.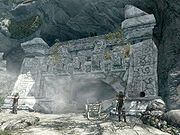 Cidhna Mine is a forced-labor prison camp underneath western Markarth containing silver ore veins. It is owned by the Silver-Blood family and used as a prison to house prisoners for Markarth. The silver ore deposits are mined by the prisoners day and night, who only receive food on a weekly basis when they have met their mining quota.
According to most, Cidhna Mine is considered to be the most feared and secure prison in all of Skyrim.
If you go to the mine as a free visitor, Urzoga gra-Shugurz will talk to you and remind you to keep out. She may tell you something about this mine. "This is a jail, owned by the Sliver-Blood family. We use the prisoners to mine for ore. It's the most secure prison in Skyrim. Throw scum in, close the gates. No one gets out." In fact, she and some Silver-Blood Guards here are not real guards. The Sliver-Bloods pay their wage. Every man is a trained mercenary.
[edit]
NPCs Living Here
[edit]
Related Quests
In order to be set free, you must serve your time by mining silver ore. You cannot pickpocket the key or otherwise escape.
The mine has six silver ore locations and some re-spawning silver ingots in the guards entrance.
In order to access the mine before the "escape" quest you must be arrested in Markarth and ask to go to jail. (If you leave one ore untouched, attack all the others with pickaxes, and then mine the untouched ore by selecting it, it is possible to use the mine.)
There is also a respawning pile of steel and silver ingots in the nearby blacksmith's workshop in Markarth.
The Cidhna mine key is carried by a guard who stands by the two iron rings. It can be used to access a room with some loot, a skill book and the evidence chests. It cannot be used to access the mine.
The Silver-Blood guards will not arrest you, they will send for the city guard if they catch you stealing or lockpicking and attack you for anything else.
If you leave the mine using the Whirlwind Sprint shout you will become blind in a similar way to the effect of reading the Elder Scroll until you enter the mine again normally. ?
[edit]
Gallery