Skyrim:Whirlwind Sprint
The UESPWiki – Your source for The Elder Scrolls since 1995
Whirlwind Sprint


(0002f7ba)

The Thu'um rushes forward, carrying you in its wake with the speed of a tempest.
Thu'um

WULD




Wuld
Whirlwind

N4




Nah
Fury

KEST




Kest
Tempest

ID

| | | |
| --- | --- | --- |
| 0002f7bb | 0002f7bc | 0002f7bd |

Effects
Recharge
Wuld
Range: ~50 feet
20
Nah
Range: ~75 feet
25
Kest
Range: ~100 feet
35
Locations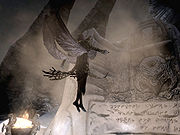 Whirlwind Sprint is a shout that causes you to rush forward. It can be used to close in on enemies, escape from battle, cross gaps to reach otherwise inaccessible areas, or simply travel faster. Sometimes it can also be used to get free if the character has gotten stuck in some areas. It can be used even if you are overencumbered.
This shout carries you horizontally, so do not use it to go down slopes; you will find yourself in mid-air when the sprint ends.
[edit]
Related Quests
[edit]
Possible Uses
Charging distant archer/mage.
If you hold an object against any locked door or hidden path to another cell and use Whirlwind Sprint, you will jump into the holding space behind the door or path. There is no way back except by use of the console, or if the door is actually pickable. This glitch is best used on doors blocking access through to the same cell, (i.e. no loading screens normally required).
Bypass floor traps and triggers, and avoid swinging blades.
[edit]
Hidden Areas
There are many hidden areas that are only accessible via this shout. This is only a list of places where valuable loot can be found.
The third word of this shout allows you to travel fewer feet per second for the recharge time than than the second version. For the three words of the shout; the first word allows you to travel 2.5 feet per second of recharge, the second version grants the best speed of three feet per second of recharge, and the third version provides a slightly shorter distance of 2.85 feet per second of recharge.
While there are three word wall texts for this shout, only two of them will appear in any single game; the Greybeards will teach you one of the shout words.
If used while swimming, upon exiting the water or jumping, as with all shouts, Whirlwind Sprint will immediately activate. This allows for a quick boost should you jump out of water, sending you the normal distance in whatever direction you are facing when you exit the water.

This also may cause undesired effects if you unintentionally use it and exit the water. To counteract this, just before exiting simply jump in the opposite direction you intend to go.
[edit]
Word Wall Translations
Thu'um
Word Wall
Translation
Transliteration
Wuld
HET NOK KOPR1N DO
WYNJULF F1L WULD WEN
V3NT1S TUZ V9 Z2M L4VU
DO R4GROL OG3M
Here lies [the] body of
Wynjolf the Whirlwind whose
shining blade cut through an army
from Ragron [the] Orc.
HET NOK KOPRaaN DO
WYNJULF FaaL WULD WEN
ViiNTaaS TUZ Vey ZeiM LahVU
DO RahGROL OGiiM

Nah
NONVUL BRON D4M1N D1R
ROK DO FIN FOD3Z BORM4
OBLIVION L8ST NID N4 MED
SP1N V4DIN B9N
Noble Nord, remember these
words of the Hoar Father -
Oblivion hath no fury like
[a] shield maiden scorned.
NONVUL BRON DahMaaN DaaR
ROK DO FIN FODiiZ BORMah
OBLIVION LooST NID Nah MED
SPaaN VahDIN BeyN

Kest
BEKKHILD W4L1N QETHSEGOL
4MULI V4RUKT EYOLF WEN
V9SUN LOS SIZ1N KO VUL
KEST KO OK1Z DO LUV
Bekkhild raised [this] stone
[in her] husband's memory, Eyolf, whose
ship was lost in [a] dark
tempest in [the] Sea of Tears.
BEKKHILD WahLaaN QETHSEGOL
ahMULI VahRUKT EYOLF WEN
VeySUN LOS SIZaaN KO VUL
KEST KO OKaaZ DO LUV
There is a strange glitch where some instances cause this to be used in the air, but nothing happens and your shout cooldown activates. Direct causes of this aren't clear. ?
When using Whirlwind Sprint in certain ruins and dungeons, it is possible to clip through a stationary object and become trapped behind it. For instance, using Whirlwind Sprint near a bookshelf or cupboard will cause you to travel behind it and be unable to move out of that location. ?
Sometimes when this shout is used, the sound effect of your character shouting will be delayed until you finish dashing.