Skyrim:Silver-Blood Inn
The UESPWiki – Your source for The Elder Scrolls since 1995
This article is being developed as part of the Skyrim Houses Redesign Project. If you see this tag it means the article can still be improved. Please see the project page for guidelines.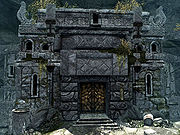 Silver-Blood Inn is an inn located in the city of Markarth.
The inn is owned by Markarth's prominent Silver-Blood clan, even though the members of the family are never seen in the building. They leave the business of running the inn to Kleppr, who rents rooms and sells food and drink. His wife, Frabbi, works at the inn, at least when she is not busy arguing with her husband. If Kleppr dies she takes over running the business, with nearly as many complaints about her husband as when he was alive. Their two children, Hreinn and Hroki, are also kept busy with jobs around the inn.
The Silver-Blood Inn is one of the largest inns in Skyrim, and many other townspeople can frequently be found in the inn. Vorstag is always found sitting in a corner, offering to be a follower for 500 gold. Ogmund is the local bard and spends most of time here, although he sleeps at his own house. Hogni Red-Arm sleeps in the inn at night.
Margret also lives in the inn, in a locked room at the end of a hall on the left. If she survives the attack in the marketplace, she can be found sitting by the fire in the inn.
Cosnach, Degaine, and Muiri are some of the regulars at the bar in the evening, but they do not live in the inn.
[edit]
Current Residents
[edit]
Related Quests
NOTE:
Some radiant quests have a sizeable list of possible locations. These quests are not placed on individual place pages, and are instead listed at
radiant quest locations
.
[edit]
Standard Merchandise
This is the merchandise found in the inn's merchant chest. These items are only available if purchased from the merchant; they cannot be pickpocketed or stolen. They are restocked every two days.
There is a "Danger" shadowmark to the top right of the entrance door.
The hidden merchant chest for the Silver-Blood Inn is named the "MerchantMarkarthSilverFishInnChest".
[edit]
Gallery
After searching Margret's room, the door sometimes goes missing, so you cannot leave.