Skyrim:Kleppr
The UESPWiki – Your source for The Elder Scrolls since 1995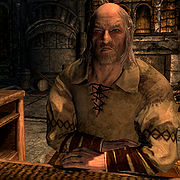 Kleppr is a Nord who manages the Silver-Blood Inn in Markarth. He is married to Frabbi and they have two children: Hroki, and Hreinn.
Kleppr wears a set of barkeep clothes and shoes, and carries an iron dagger, some common items and gold, and the key to Margret's room.
Walk inside the inn and Kleppr will greet you "Come on in. The Silver-Blood Inn has plenty of strong drink and clean rooms.".
Kleppr has an acerbic relationship with his wife, complaining about her openly with comments such as "If I can't get you something, I'm sure my wife will bellow at me until I can." Even if Frabbi dies, his bitter attitude toward her will continue, as he'll mention that "Things are so much quieter with my darling Frabbi dead."
If Kleppr dies, Frabbi will take over all innkeeper services at the Silver-Blood Inn, including renting out beds, selling food and drinks, and giving rumors.
[edit]
Related Quests
[edit]
Dialogue
Kleppr and Frabbi have some scripted conversations which can be triggered at some specific points:

Frabbi: "Unlike my husband Kleppr, I watch after our guests."
Kleppr: "What was that you said, venomous wife of mine?"
Frabbi: "Nothing, you pig-headed oaf!"
Sit on a chair in the inn
Kleppr: "Frabbi, a customer needs a drink!"
Frabbi: "Too lazy to give him [sic] a drink yourself? Oaf."
Frabbi: "You want a drink?"
What's on the menu?
Frabbi: "Depends. Are you thirsty, hungry, both?"
Open general merchants interface