Skyrim:Faleen
The UESPWiki – Your source for The Elder Scrolls since 1995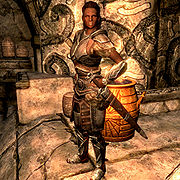 Faleen is a Redguard warrior and the housecarl of Jarl Igmund of Markarth. She can be found in Understone Keep. Another inhabitant of the keep is romantically interested in her, as revealed in The Book of Love. If Igmund has been removed as the Jarl of Markarth, she can be found with him in the Blue Palace.
[edit]
Related Quests
NOTE:
Some radiant quests have a nearly unlimited list of possible quest targets, or can be randomly initiated by nearly any NPC in the game. These quests are not placed on individual NPC pages, and are instead listed at
radiant quest NPCs
.
If Faleen is the target of a radiant quest (such as Hired Muscle), you will be told to go Markarth even if she has relocated to the Blue Palace. However, the quest marker will point to the correct place.