Skyrim:Dead Crone Rock
The UESPWiki – Your source for The Elder Scrolls since 1995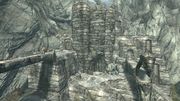 Dead Crone Rock is a Forsworn-inhabited Nordic tower located south-southwest of Markarth, just above Hag Rock Redoubt.
Upon entering, you will be facing a small stone table with a leveled soul gem resting atop it, and a flight of stairs heading up to your right. At the top of the stairs, a treasure chest and three urns on your right may distract you from the leveled Forsworn down the short dark corridor to the left. Interestingly, two nordic barnacle clusters can be found in this corridor, far from any water source. A spiral staircase in an alcove off the corridor leads up to the second level, where two leveled Forsworn occupy two rooms. The back room contains a treasure chest and an arcane enchanter on a table, while the first room has an adept-locked door leading to an exit that lets out to a balcony with a chest. A dead-end corridor out of the back of the second room leads to an alcove with a copy of the Alchemy skill book A Game at Dinner by a lever which opens the gate closing off the corridor that leads up to an exit.
Outside, up another set of stairs, is a hagraven named Drascua. Three soul gem fire traps face a burned corpse. She is carrying the pommel of Mehrunes' Razor for the quest Pieces of the Past. There is an unusual gem here and a word wall for the Dismay shout. The gem is located on the altar located in front of the word wall.
The Dead Crone Rock key lies on the altar. A boss-level chest is on the north side. If you look back from the top of the stairs leading to Drascua's altar, to your left are some urns that might be easily missed. Next to those urns lies a leveled soul gem. You can reach them by jumping up from the bookcase, jumping onto the wall that leads around the room, or using Whirlwind Sprint.
[edit]
Related Quests