Shivering:Crucible
The UESPWiki – Your source for The Elder Scrolls since 1995
New Sheoth
(view on map)
SENSCrucible01
SENSCrucible02
SENSCrucible03
SENSCrucible04
SENSCrucible05
SENSCrucibleEntrance
SENSCrucibleLower
SENSCrucibleUpper
Inns
Shops
Temples
Other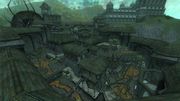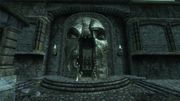 Crucible is the southern part of New Sheoth; located in the Dementia half of the Shivering Isles. This murky area of town has a lot of rundown houses. It is guarded by the Dark Seducers and ruled by Syl, the Duchess of Dementia.
[edit]
Related Quests
If your Acrobatics skill is high enough, try exploring the rooftops in Crucible. You may find some interesting things, including a guaranteed magic item ( a Ring of Light) and the start of an unmarked quest.

The Ring of Light is located on the roof of Ma'zaddha's house, next to a pair of fur gauntlets and two bones.
[edit]
People