Online:Aldmeri Dominion
The UESPWiki – Your source for The Elder Scrolls since 1995
This Online article is based on pre-release information.

This article should only contain officially released content, such as open beta and press release information.
This information is subject to change at any time, and will be updated once the content is released.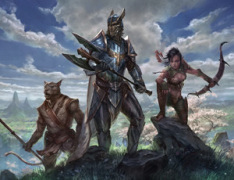 The Aldmeri Dominion is one of the three joinable factions warring against the Empire. The crest of the Aldmeri Dominion is an eagle, and its color is yellow. It consists of the Altmer of Summerset Isles, the Bosmer of Valenwood, and the Khajiit of Elsweyr. The alliance is a nascent empire that rules its holdings with an iron fist. Led by Queen Ayrenn with Elden Root as its capital, the Dominion seeks to reestablish Elven dominance over Tamriel in order to protect it from the carelessness of the younger races.[1] The province of Valenwood, led by King Camoran Aeradan, joined the alliance to help fight off the Colovian troops that were capturing territory in northern Valenwood, while Elsweyr still remains in the grip of the Knahaten Flu.[2]
For historical information on the Aldmeri Dominion, see the lore article.
[edit]
Quotes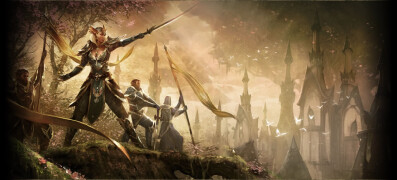 Today we make our stand. Today we take back the Ruby Throne, which is ours by ancient right and the blessings of the Divines. Stand with us. —Queen Ayrenn
[edit]
References