Online:Daggerfall Covenant
The UESPWiki – Your source for The Elder Scrolls since 1995
This Online article is based on pre-release information.

This article should only contain officially released content, such as open beta and press release information.
This information is subject to change at any time, and will be updated once the content is released.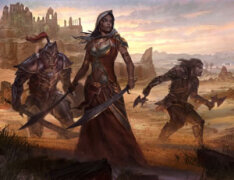 The Daggerfall Covenant is one of the three joinable factions warring against the Empire and each other. The crest of the Daggerfall Covenant is a lion, and its color is blue. It consists of the Bretons and the Orcs of High Rock, and the Redguards of Hammerfell. The alliance is an egalitarian democratic association which uses its military might to secure lucrative trade routes. Led by High King Emeric of Wayrest, the Covenant seeks to capture the Ruby Throne in order to restore the Second Empire and return stability to Tamriel.[1] The Orcs of Orsinium are lead by King Kurog.[2] Covenant players will begin on the island of Stros M'Kai, after being ejected from Coldharbour by Molag Bal.
[edit]
Quotes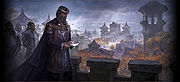 "One land! One Emperor! Who among you will stand with me?" —High King Emeric
[edit]
References