Online:Ebonheart Pact
The UESPWiki – Your source for The Elder Scrolls since 1995
This Online article is based on pre-release information.

This article should only contain officially released content, such as open beta and press release information.
This information is subject to change at any time, and will be updated once the content is released.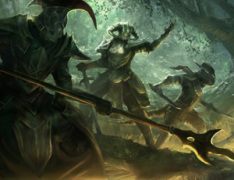 The Ebonheart Pact is one of the three joinable factions warring against the Empire. The crest of the Ebonheart Pact is a dragon, and its color is red. It consists of the Dunmer of Morrowind, the Nords of Skyrim and the Argonians of Black Marsh. The alliance was reluctantly formed out of necessity; despite the three warlike races' ancestral hatred for each other, they recognized the threat posed by their unified enemies and banded together to protect their borders. Led by Jorunn the Skald-King and the Great Moot, the Pact seeks to defeat the Empire and preserve the independence of its homelands.[1] The main base of operations is Mournhold.
The Great Houses hold a lot of power in Morrowind. All but House Telvanni agreed to join the Pact, and the Telvanni have become somewhat estranged from the other houses because of it. Black Marsh has no monarchy, but has collectively joined the Pact to protect its interests.
[edit]
History
In 2E 572, an Akaviri invasion force attacked and weakened the Dunmer, Nords, and Argonians. Despite their mutual dislike for each other, they formed an alliance, both to protect against the Akaviri and against the growing Imperial threat.[2] Under the terms of the Alliance, Dunmer were allowed to keep all non-Argonian slaves, with Khajiit being the most common race currently enslaved. All Argonian slaves were released.[3]
[edit]
Quotes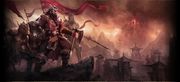 "The alliance between our races was born in dark times, when Nord, Dunmer and free Argonians fought as one to repel the invasion of the Akaviri slavemasters. Our greatest strength is the adversity we have overcome. Our resolve is glacial, our might is forged in fire, and our courage, cultivated by the beasts of the jungle. We are Ebonheart. We are as one. And by this, our victory is assured." —Jorunn the Skald-King
[edit]
References