Skyrim:Madena
The UESPWiki – Your source for The Elder Scrolls since 1995
Madena
(RefID: 0001A6C3)
Home City
Dawnstar
Store
The White Hall
Race
Breton
Gender
Female
Level
15
Class
Destruction Mage
RefID
0001A6C3
BaseID
0001361D
Merchant
Gold
500 (+1000 Master Trader)
Sells
See Standard Merchandise
Buys
Spells (Books, Clothing, Daedric Artifacts, Jewelry, Scrolls, Soul Gems, Spell Tomes, Staves)
Other Information
Health
167
Magicka
143
Stamina
50
Primary Skills
Destruction, Restoration, Alteration, Conjuration, Sneak
Class Details
CombatMageDestruction
Moral.
No Crime
Aggress.
Unaggressive
Faction(s)
CrimeFactionPale; DawnstarWhiteHallFaction; JobMerchantFaction; JobSpellFaction; ServicesDawnstarCourtWizard; TownDawnstarFaction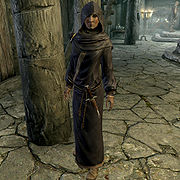 Madena, a Breton destruction mage, is a citizen of Dawnstar and acts as the court wizard to the Jarl of Dawnstar. She warns you against going into Silus Vesuius's museum and offers you a terse history of the Mythic Dawn, a cult which brought about the Oblivion Crisis and almost destroyed Tamriel.
Madena reveals that she is a veteran of the Great War between the Empire and the Aldmeri Dominion and recounts what she witnessed. She became horrified by the use of her spells during a battle, which killed every Thalmor soldier in the fight, and she vowed to never use destructive magic again. If you attack her though, she will break that vow.
When asked if she is the court wizard she will say "If you can call it that. The Jarl can make all the demands in the world, I'm not setting one foot on the battlefield. I cut enough lives short in the Great War. I'm not going to do it again."
She wears blue mage robes and a pair of boots. She is equipped with an iron dagger, and carries a selection of common loot and gold.
[edit]
Displayed Merchandise
The following items are sitting out in the store, for example on the store counters. They can be purchased from the merchant, or else can be stolen. Other items may also be present in the store, but those other items are not available for purchase. They respawn after ten days.
Ingredients (req. Merchant perk): 5 Bone Meal, 1 Canis Root, 5 Chaurus Eggs, 2 Creep Cluster, 2 Deathbell, 1 Ectoplasm, 1 Falmer Ear, 1 Frost Salts, 2 Giant's Toe, 1 Glow Dust, 5 Hagraven Claw, 1 Hagraven Feathers, 4 Ice Wraith Teeth, 1 Orange Dartwing, 3 Torchbug Thorax
Poisons (req. Merchant perk): 1 Lingering Stamina Poison, 1 Poison, 1 Weak Poison
Potions (req. Merchant perk): 1 Draught of Enhanced Stamina, 1 Draught of Illusion, 4 Potion of Enhanced Stamina, 1 Potion of Illusion, 1 Potion of Lasting Potency, 2 Potion of Lockpicking, 4 Potion of Minor Healing, 2 Potion of Minor Magicka, 1 Potion of Strength
[edit]
Standard Merchandise
This is the merchandise found in Madena's Merchant Chest. These items are only available if purchased from the merchant; they cannot be pickpocketed or stolen. They are restocked every two days.
| Count | Item | Details |
| --- | --- | --- |
| 1 | Complete set of Novice Spell Tomes | Best-quality |
| 1 | Complete set of Apprentice Spell Tomes | Best-quality |
| 1 | Complete set of Adept Destruction Spell Tomes | Only if PC's skill level is high enough |
| ~9 | Leveled Scrolls | Max 12 (12@75%) |
| ~15 | Leveled Soul Gems (empty and full) | Max 20 (20@75%) |
[edit]
Spells
Madena knows the following spells: