Morrowind:Violet Coprinus
The UESPWiki – Your source for The Elder Scrolls since 1995
Violet Coprinus


(ingred_coprinus_01)

1
0.5
Alchemy Effects
1st
 Water Walking
2nd
 Drain Fatigue
3rd
 Poison
Sources
# Samples
15
Plant
Violet Coprinus
 %
90
# Plants
1101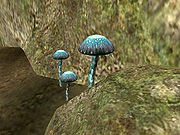 "Violet coprinus is a tall, slender-stemmed, light-green-capped mushroom of the Bitter Coast region with modest magical properties."
Violet Coprinus is a common mushroom found in abundance in the Bitter Coast region, as well as growing in caves. It is useful as a means of emergency escape when you are in deep water. Simply eating one raw should cause you to surface almost immediately, provided there is nothing solid between you and the surface. Having a couple on-hand for long dives can be a life-saver. You will also need to bring a sample to Ajira at the Balmora Mages Guild during the Four Types of Mushrooms quest.
Violet Coprinus is one of only two ingredients in vanilla Morrowind which can be used to create Poison potions (not counting the rare Poison), the other ingredient being Luminous Russula. The Tribunal expansion adds three other ingredients with a Poison effect.
The following vendors carry a restocking supply:
* Cienne keeps her ingredients in a chest in her shop, rather than on her person. If you can gain access to this chest without being caught, you can have an unlimited supply for free.
Plants can be found in the following locations:

Ebonheart, Underground Caves (52)
Vivec, Hlaalu Plaza (47)
Vivec, St. Delyn Plaza (44)
Vivec, St. Olms Plaza (33)
Vivec, Hlaalu Underworks (23)
Vivec, St. Delyn Underworks (23)
Vivec, Foreign Quarter Plaza (22)
Dagoth Ur, Facility Cavern (20)
West Gash Region, [-9,5] (16)
Bitter Coast Region, [-7,1] (15)
Bitter Coast Region, [-5,-4] (15)
Bitter Coast Region, [-8,2] (14)
Bitter Coast Region, [-2,-8] (14)
Berandas, Underground (13)
Bitter Coast Region, [-7,3] (13)
Maba-Ilu (13)
Yesamsi (13)
Ashirbadon (12)
Bitter Coast Region, [-7,2] (12)
Bitter Coast Region, [-7,4] (12)
Punabi (12)
Bitter Coast Region, [-7,0] (11)
Bitter Coast Region, [-3,-9] (11)
Bitter Coast Region, [-1,-9] (11)
Bitter Coast Region, [0,-10] (11)
Shal (11)
Assu (10)
Bitter Coast Region, [-6,-3] (10)
Dubdilla (10)
Dun-Ahhe (10)
Vivec, Telvanni Alchemist (10)
Bitter Coast Region, [-6,2] (9)
Bitter Coast Region, [-5,-2] (9)
Bitter Coast Region, [-5,2] (9)
Odaishah (9)
Bitter Coast Region, [-7,-6] (8)
Bitter Coast Region, [-6,-5] (8)
Bitter Coast Region, [-6,-2] (8)
Bitter Coast Region, [-6,1] (8)
Bitter Coast Region, [-4,-9] (8)
Bitter Coast Region, [-2,-9] (8)
Koal Cave (8)
Pulk (8)
Tel Uvirith, Tower Dungeon (8)
Vivec, Guild of Mages (8)
Vivec, St. Delyn Waistworks (8)
West Gash Region, [-6,4] (8)
Bitter Coast Region, [-9,4] (7)
Bitter Coast Region, [-8,0] (7)
Bitter Coast Region, [-8,3] (7)
Bitter Coast Region, [-7,-4] (7)
Bitter Coast Region, [-7,-1] (7)
Bitter Coast Region, [-6,-7] (7)
Bitter Coast Region, [-6,-6] (7)
Bitter Coast Region, [-5,-3] (7)
Bitter Coast Region, [-1,-11] (7)
Bitter Coast Region, [0,-11] (7)
Aharnabi (6)
Ascadian Isles Region, [-2,-7] (6)
Bitter Coast Region, [-8,4] (6)
Bitter Coast Region, [-5,-1] (6)
Bitter Coast Region, [-5,1] (6)
Bitter Coast Region, [-5,3] (6)
Bitter Coast Region, [-3,-8] (6)
Ibar-Dad (6)
Mallapi (6)
Nallit (6)
West Gash Region, [-8,5] (6)
West Gash Region, [-2,-2] (6)
Addamasartus (5)
Bitter Coast Region, [-9,-1] (5)
Bitter Coast Region, [-9,2] (5)
Bitter Coast Region, [-8,-2] (5)
Bitter Coast Region, [-8,-1] (5)
Bitter Coast Region, [-8,1] (5)
Bitter Coast Region, [-7,-2] (5)
Bitter Coast Region, [-5,0] (5)
Bitter Coast Region, [-4,-1] (5)
Bitter Coast Region, [-3,-10] (5)
Shushan (5)
Vivec, Telvanni Mage (5)
Vos, Varo Tradehouse (5)
Assumanu (4)
Bitter Coast Region, [-6,-1] (4)
Bitter Coast Region, [-6,0] (4)
Bitter Coast Region, [-6,3] (4)
Bitter Coast Region, [-5,-9] (4)
Ebonheart, Argonian Mission (4)
Inanius Egg Mine (4)
Panat (4)
Sadrith Mora, Telvanni Council House, Hermitage (4)
Shushishi (4)
Tower of Tel Fyr, Onyx Hall (4)
Vivec, Library of Vivec (4)
Vivec, St. Olms Haunted Manor (4)
Abaelun Mine (3)
Assarnud (3)
Band Egg Mine (3)
Bitter Coast Region, [-8,-3] (3)
Bitter Coast Region, [-5,-5] (3)
Bitter Coast Region, [-1,-10] (3)
Sadrith Mora, Threvul Serethi: Healer (3)
West Gash Region, [-7,5] (3)
West Gash Region, [-4,-3] (3)
Ascadian Isles Region, [0,-9] (2)
Bitter Coast Region, [-7,-5] (2)
Bitter Coast Region, [-6,-4] (2)
Urshilaku, Kakuna Burial (2)
Ascadian Isles Region, [1,-10] (1)
Bitter Coast Region, [-7,-3] (1)
Bitter Coast Region, [-5,-8] (1)
Bitter Coast Region, [-4,-8] (1)
Pudai Egg Mine, Queen's Lair (1)

Loose samples: