Skyrim:Nelacar
The UESPWiki – Your source for The Elder Scrolls since 1995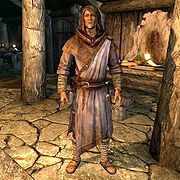 Nelacar is an Altmer sorcerer and former member of the College of Winterhold, currently living in the Frozen Hearth inn in Winterhold. He was asked to leave the college due to some failed experiments. He will ask you to bring him Azura's Star, a powerful soul gem, which will not be destroyed upon usage, and can be refilled an unlimited amount of times. Nelacar will explain that a man named Malyn once sought immortality through use of the gem.
Nelacar views the Daedra as evil, including Azura, especially in light of what transpired to his friend Malyn Varen.
He wears apprentice robes of Alteration, an apprentice hood, and a pair of boots.
[edit]
Spells
He is able to cast the following spells:
[edit]
Related Quests
[edit]
Standard Merchandise
This is the merchandise found in Nelacar's merchant chest. These items are only available if purchased from the merchant; they cannot be pickpocketed or stolen. They are restocked every two days.