Skyrim:Half-Moon Mill
The UESPWiki – Your source for The Elder Scrolls since 1995
This article is being developed as part of the Skyrim Houses Redesign Project. If you see this tag it means the article can still be improved. Please see the project page for guidelines.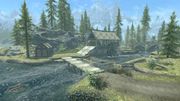 Half-Moon Mill is a lumber mill that supplies Helgen and Falkreath. It is operated by Hert and Hern, who live in a small cabin across from the mill itself. A small butcher's shack is located next to the mill and contains a fair amount of meat.
There are several activities to do in and around the camp, including chopping wood, which Hern will pay for, and mining a sizeable iron ore vein located on the north side of their cabin. The lake is rich in salmon and there is a chicken coop next to the cabin. The cabin itself is fairly run-of-the-mill, but some oddities do stick out. The first is a copy of Physicalities of Werewolves hidden underneath their bed. There are also remains that appear to be human underneath the table in the butcher's shack.
Should you join the Dark Brotherhood, a contract placed on Hern will reveal the couple's true nature to be vampires that feed on passing travelers. Just a little ways to the northwest is a cairn with a dead Dark Elf that looks very white as if drained of his blood, another clue to their true nature.[verification needed — Is there any strong relation?]
You can buy sawn logsHF here after installing Hearthfire by speaking to Hert. You can also cut your own for free if she has given permission to do so.
[edit]
NPCs Living Here
[edit]
Related Quests
Hern does not appear until the quest Kill Hern is started.
When building a home with the Hearthfire plug-in, your map marker may send you here to buy sawn logs. If you have killed Hert and Hern during Kill Hern, you may simply go to another wood mill to purchase lumber to clear the objective.