Skyrim:Enthir
The UESPWiki – Your source for The Elder Scrolls since 1995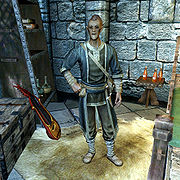 Enthir is a Bosmer sorcerer living on the second floor of the Hall of Attainment, in the College of Winterhold. When meeting him for the first time, he claims to be able to obtain "hard to find" items, and instructs you to meet him in his quarters to conduct business discreetly. He occasionally travels to the Frozen Hearth inn in Winterhold.
Enthir sells mainly mage equipment and supplies, such as staves, robes, scrolls, ingredients, spell books, and soul gems. He does sell some rare items, such as daedra hearts and black soul gems. He will buy any type of item. He wears expert robes of illusion and a pair of boots. He also carries an iron dagger.
[edit]
Related Quests
[edit]
Standard Merchandise
This is the merchandise found in Enthir's merchant chest. These items are only available if purchased from the merchant; they cannot be pickpocketed or stolen. They are restocked every two days.
[edit]
Spells
Enthir knows the following spells:
During the quest Hard Answers, Enthir is found in the Frozen Hearth and has different dialogue and behavior.
As Enthir is found in the Frozen Hearth during the quest Hard Answers, there is reason to believe that the tome on Falmer he refers to in the conversation in the beginning of the quest might be The Falmer: A Study found in the Frozen Hearth Cellar.
Although he is a Bosmer, during the quest Hard Answers, he refers to himself as an Altmer when you ask him about the Falmer. This could just be a minor oversight:
Player: "So they were like your kind?"
Enthir: "Like the Altmer? Yes, I would say their culture quite possibly rivaled our own."
Oddly enough the voice actor used for Mercer Frey is also used for Enthir during the same quest line (Hard Answers), despite the two characters being at odds with each other, and no attempt at a variation between the inflection of the two characters seems to have been made.
You must trade with Enthir before you become an Archmage or he will not trade with you. Several bugs have been noted with the dialog, but the default behavior indicates that if you trade with him before you become the Archmage, then you should continue to be able to trade with him.
Enthir may get stuck in the Frozen Hearth.
At some point after completing the Thieves Guild quests and becoming Archmage (note:this bug may occur even without archmage status), Enthir may lose his status as a fence. Despite having two separate dialogue options (one for his old retail mode and another for his fence mode), he will only buy non-stolen goods, and be limited to the original 500 gold.
If Enthir is in the courtyard of the College of Winterhold during a dragon attack, he will mostly just stand around and ignore it, even while he is personally being attacked. He may also occasionally applaud the dragon with the generic "My money's on the big one!" cheer, but does not fight or flee. ?