Morrowind:Ordinator
The UESPWiki – Your source for The Elder Scrolls since 1995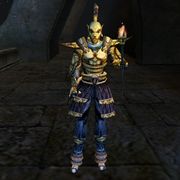 Ordinators are special guards employed by the Tribunal Temple to guard its premises and the city of Vivec. They are sworn to uphold both Temple law and Imperial law. Ordinators wear some of the best Medium armor, colored light-gold and blue, and masks hide their faces. They will respawn if killed.
[edit]
Background
Ordinators are devout and staunch supporters of the Tribunal Temple, following the reigning doctrine. As such, they are opposed to the Nerevarine Prophecies and the Dissident Priests. They also have a friendly rivalry with the Buoyant Armigers, another Temple military order. Their distinctive armor is sometimes called "Indoril" armor because many, although not all, Ordinators are members of House Indoril.
There are four distinct orders of Ordinators: The Order of the Watch are responsible for law enforcement in Temple districts; the Order of War fight hostile Daedra worshippers and the Sixth House; the Order of Inquisition try and execute "heretics", often in defiance of Imperial Law; and the Order of Doctrine and Ordination are militant scholars who study Temple writings.
[edit]
Locations
Ordinators are found mainly in the City of Vivec, but also in some Tribunal temples (e.g. the Ghostgate). Usually there are a few Ordinators on patrol on the exteriors of Vivec cantons, and a few more inside. They also guard the prison in the Ministry of Truth. A small contingent of Ordinators are also stationed at Molag Mar. Ordinators in Mournhold are known as High Ordinators.
[edit]
Treating Ordinators
Ordinators can be quite annoying guards. They seem to enjoy calling you "scum" if you don't have a high enough Disposition with them, often taunting you that "If you've come for trouble, then you'll get more than you bargained for."
If you attack one before its blow lands on you, you'll be placed on all Ordinators' hatelist, meaning that they will always attack you and won't stop until you're dead. The same applies if you are caught wearing either the Indoril Helmet or Cuirass. In combat, Ordinators scale like other guards and are not much harder to kill than a Hlaalu guard for example, but due to their "Die, Scum!" group behavior, it's normally preferable to run than to retaliate. Unless you want their armor...
After you're named Nerevarine by the Urshilaku Ashlanders, the Ordinators might attack you on sight, if your disposition with them is very low. After you meet with Archcanon Tholer Saryoni and Vivec, Ordinators will be more accepting.
All Ordinators have the following equipment: Ebony Mace (12,000 gold), full set of Indoril Armor - (Cuirass: 7,000 + Helm: 3,000 + Boots: 2,000 + Shield: 2,000 + Left & Right Pauldron: 2,400 each + Left & Right Gauntlet: 1,400 each), and Expensive Pants, Indoril Belt and a Torch. All together, their equipment is worth 33,600 gold.
[edit]
Important Ordinators
[edit]
Related Quests