Lore:Bestiary F
The UESPWiki – Your source for The Elder Scrolls since 1995
---
[edit]
Faded Wraith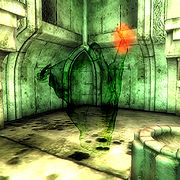 A weaker form of wraith, with a translucent appearance.
Found in:
[edit]
Falmer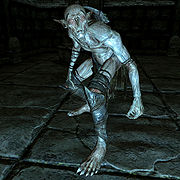 Falmer are the near-mythical snow elves, once thought to have disappeared from the world. They now live deep underground, and have devolved into disfigured, violent remnants of their former selves. Primitive in nature, their weapons and armor are made from Chaurus chitin.
Found in:
[edit]
Fire Atronach
The Fire Atronach is a magical, fire-enchanted golem. It is advised to use cold based spells when attacking one, as any fire spells actually heal the creature instead of damaging it. Be careful not to approach too closely, as it gives off great heat which can damage an adventurer if they get too close. See also: Flame Atronach.
Found in:
[edit]
Fire Daedra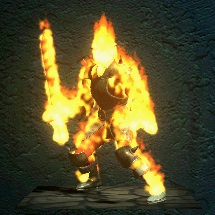 This Elemental Daedra is one of the more mundane, but dangerous, daedra from Oblivion. Slightly intelligent with some spell casting abilities, it can only be harmed by mithril or better weapons and is greatly resistant to fire based spells.
Found in:
[edit]
Fire Daemon
These creatures are from the netherworld, often gating themselves into our plane of existence on some errand of their choosing. They are dangerous foes, highly intelligent, completely chaotic in nature, and powerful in the ways of magic.
Found in:
[edit]
Fire Wyrm
Fire wyrms are ethereal dragon-like creatures that emerge from the corpses of those slain by the fire breath of a powerful Tongue.
Found in:
[edit]
Flame Atronach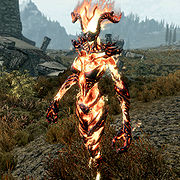 A powerful Fire Elemental Daedra which can be summoned by mages and hunted as a source of Fire Salts. See also: Fire Atronach.
Found in:
[edit]
Flesh Atronach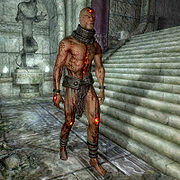 This flesh enchanted golem is a powerful foe which damages opponents if they get too close. It does not require magical weapons to be harmed but note that any poison based spells actually heal instead of damage.
Found in: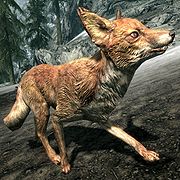 A small, typically non-aggressive creature found in the wilderness. Foxes are often seen chasing Rabbits. Their pelts are often sold by hunters. See also: Snow Fox
Found in:
[edit]
Frost Atronach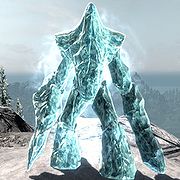 This powerful Elemental Daedra not only causes damage with its vicious physical attacks, but also from the extreme cold aura it generates, which makes it immune to cold-based spells. Frost Atronachs can be summoned by mages, and are often hunted as a source of Frost Salts.
Found in:
[edit]
Frost Daedra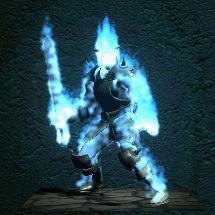 Similar to the Fire Daedra, this common Elemental Daedra can only be hit by mithril or better weapons and can cast cold based spells.
Found in:
Frost Giants are a sentient race of very large humanoids. They possess five eyes, and have two curved horns decorating their forehead. White, shaggy hair covers their bodies. They have regenerative abilities that are stunted by fire and are extremely strong.
[edit]
References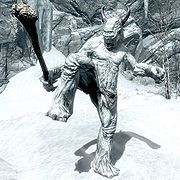 Found in:
[edit]
Frost Troll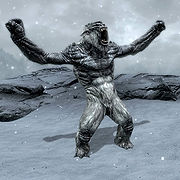 Frost Trolls are a type of Troll that is found in ice caves and other cold regions. They possess powers of regeneration, but are notably weak to fire.
Found in:
[edit]
Frostbite Spider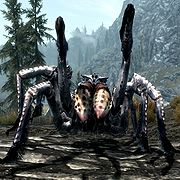 Frostbite Spiders are giant arachnids native to Skyrim. They can be found in their underground nests, or roaming the wilderness. Their lairs are often covered in webs, which can cause obstructions. They spit poisonous venom at their prey from a distance, and leap at them to attack with pincers if they get too close. Frostbite Venom is often harvested from the spiders for use as a poison. Spider Eggs can be taken from the sacs in their web for use in alchemy. See also: Spider
Found in: