Skyrim:Temba Wide-Arm
The UESPWiki – Your source for The Elder Scrolls since 1995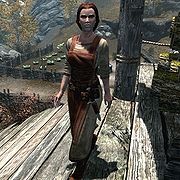 Temba Wide-Arm is a Nord citizen of Ivarstead who owns the town's sawmill. She fears losing her sawmill due to bears, claiming that they scratch trees with their claws therefore degrading the quality of the wood. This forces her to spend time looking for unharmed trees further and further away from Ivarstead. Because of this, she will offer the player a reward if they bring her ten bear pelts. She also becomes a potential candidate for marriage after either bringing her the pelts or chopping wood for her.
Temba wears a set of merchant clothes and a pair of boots. She is equipped with a leveled dagger which can be up to Elven quality, and carries a selection of common loot and gold.
Temba sleeps in the local inn at night.
[edit]
Related Quests
If you chose to marry Temba Wide-Arm, and move her to Breezehome, she will tell you how much she hates it.
If you have Hearthfire installed, and move her to your player-built home, she will tell you how much she hates living outside cities.