Skyrim:Radiant Raiment
The UESPWiki – Your source for The Elder Scrolls since 1995
This article is being developed as part of the Skyrim Houses Redesign Project. If you see this tag it means the article can still be improved. Please see the project page for guidelines.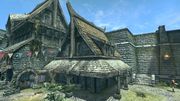 Radiant Raiment is a clothing store run by Taarie and her sister Endarie, situated on the right as you enter Solitude. It sells various clothing of all types and expenses.
[edit]
NPCs Living Here
[edit]
Related Quests
[edit]
Displayed Merchandise
The following items are sitting out in the store, for example on the store counters. They can be purchased from the merchant, or else can be stolen. Other items may also be present in the store, but those other items are not available for purchase. They respawn after ten days.
Clothing: 7 Boots, 1 Chef's Hat, 1 Chef's Tunic, 1 Clothes, 1 College Robes, 2 Fine Boots, 3 Fine Clothes, 3 Fine Hat, 1 Hat, 2 Miner's Clothes, 1 Mourner's Hat
Jewelry: 1 Gold and Emerald Circlet, 1 Silver and Sapphire Circlet
[edit]
Standard Merchandise
This is the merchandise found in Radiant Raiment's merchant chest. These items are only available if purchased from the merchant; they cannot be pickpocketed or stolen. They are restocked every two days.
This store has the largest inventory of enchanted jewelry in Skyrim, making it a useful stop if you are searching for a particular enchantment to add to your repertoire.
There is a "Loot" shadowmark to the bottom left of the entrance door. This store has some valuable clothing and jewelry.
Sometimes Endarie will accuse you of trespassing in the Radiant Raiment between 8am and 8pm. This seems related to disposition towards ServicesSolitudeRadiantRaiments or SolitudeRadiantRaimentsFaction, so doing Taarie's favor or wearing Radiant Raiment fine clothes (or other fine clothes) and exiting and re-entering may help.