Skyrim:Endarie
The UESPWiki – Your source for The Elder Scrolls since 1995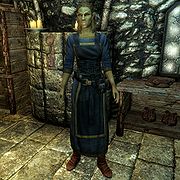 Endarie is an Altmer tailor living in Solitude. She runs Radiant Raiment along with her sister Taarie, and she can be found behind the counter in the store while Radiant Raiment is open.
Endarie's personality is not very welcoming, and she is frequently rude to you. If you invest in her shop however, her disposition towards you will increase. You can subsequently ask her why she is in a better mood, and she will respond by saying, "Only when you're around. The rest of these fools I could do without." As for the rest of her customers, she does not think much of them, even referring to them as "pigs" in a conversation with her sister:
Taarie: "Sister dear, could you try sewing those sleeves a little tighter? We can't have our customers looking sloppy because of your work."
Endarie: "Oh certainly, dear sister. We couldn't afford to have our customers look like the simple pigs they are, now could we?"
Taarie: "Good. And while you're at it, perhaps you should sew your mouth shut when our fine customers are within earshot, hrm?"