Skyrim:Pinemoon Cave
The UESPWiki – Your source for The Elder Scrolls since 1995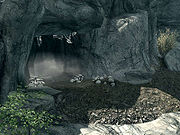 Pinemoon Cave is a small cave located to the northwest of Dragon Bridge and east of Volskygge. It is inhabited by vampires and wolves. It contains only one interior zone: Pinemoon Cave.
[edit]
Related Quests
[edit]
Walkthrough
[edit]
Exterior
In front of the entrance is a small camping site, containing a wood chopping block. There are three white cap mushrooms growing around the entrance to the cave.
[edit] Zone 1: Pinemoon Cave
Upon entering the first area of the cave, you will be attacked by two wolves. The first room hosts several deer skulls mounted upon sticks.
There is a small tunnel leading to the main area containing two vampires and one master vampire. A Nord corpse on a table will be reanimated during the fight. The main room appears to be a church-like area. On the podium in this area is a novice-locked chest.
The back area appears to be a bedroom, hosting a bed and a cage. There is also a large chest. You can find a copy of the Illusion skill book Incident at Necrom on a small table next to the cage.
The cave contains the highest concentration of fly amanita in the game. A total of 66 fly amanita mushrooms can be found growing throughout the cave's chambers and its passageways.
[edit]
Gallery