Skyrim:Northwind Mine
The UESPWiki – Your source for The Elder Scrolls since 1995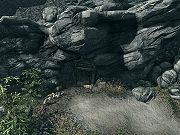 Northwind Mine is a small iron mine on the northern side of Northwind Summit.
To find the mine, start from Shor's Stone and follow the path north out of the settlement. After passing Shor's Watchtower on the right, a set of steps will be seen on the left. Follow the path up the steps to the entrance of the mine. The mine leads to the summit, a dragon lair where a word wall for the Aura Whisper shout can be found. There is a tripwire by the northern entrance.
[edit]
Related Quests
[edit]
Notable Items
If you fast travel to the mine entrance, followers may spawn with their feet encased in rock.

This bug is fixed by version 1.2.6 of the Unofficial Skyrim Patch.
They may not be able to follow you even after you zone into the mine, and you may need to move them to you via console.
Using Unrelenting Force on the follower will knock them off the rock and allow them to follow you.

Fast traveling while on horseback may cost you a horse. You spawn fairly high next to a rock face, and the resulting fall can kill your horse. ?