Skyrim:Hrefna
The UESPWiki – Your source for The Elder Scrolls since 1995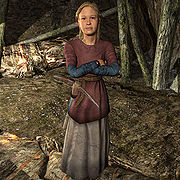 Hrefna is a Nord child residing in Darkwater Crossing who lives with her mother Tormir. She wears red colored child's clothes and a pair of shoes. She is equipped with a pickaxe, and carries a selection of food and toys, as well as a small amount of gold. Even though she has a pickaxe and walks around Goldenrock Mine during the day, she will never be seen mining.
When you first meet her she will be quite friendly and warmly greet you with "Hi! I've never seen you around here before. Are you a miner too?"
When her mother is not around, Sondas takes care of her. She also says she goes swimming in the river with Derkeethus every now and then, and if Derkeethus is still missing she will admit that she misses him with the remark that "Derkeethus used to take me diving way down deep in the river. I miss him."
It becomes clear that she does not agree with her mother's political view when she says "Mom says the Empire is mean, but I don't think they're that bad." and she will also go on to say "The Stormcloaks are named after Ulfric. He's a bad man, but don't tell the soldiers that."