Oblivion:Barren Cave
The UESPWiki – Your source for The Elder Scrolls since 1995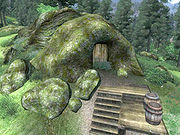 Barren Cave is a small cave west of Cheydinhal containing vampires. It contains only one zone, Barren Cave.
[edit]
Exterior
The exterior is located at coordinates: Tamriel 23, 21
This location's map marker (M on map) is named Barren Cave (editor name BarrenCaveMapMarker). The entrance door is ENE of the marker, 70 feet away.
The following plants can be found near the entrance: 3 Alkanet plants, 16 Bergamot plants, 1 Fennel plant, 4 Flax plants, 3 Fly Amanita plants, 1 Ginseng plant, 1 Lady's Mantle plant, 10 Lavender plants, 5 Monkshood plants, 2 Primrose plants, 3 Steel-Blue Entoloma plants, 3 Viper's Bugloss plants, and 3 Water Hyacinth plants
[edit] Zone 1: Barren Cave
This cave is rich in treasure and is fairly small, so is definitely worth exploring, even if it means contracting Porphyric Hemophilia from one of the Vampire inhabitants. Upon entering from door Out, proceed forward to a large room with a pit, six coffins arranged in a circle and two vampires. Dispose of the vampires and search the coffins for valuables, then proceed forward to an intersection. Both directions will land you in the same area, so take care of the patrolling vampires and be on the lookout for minor loot chests (green dots on map) as you fight your way through to the large northeastern room for an encounter with a boss-leveled vampire at A. Loot his boss coffin near the shrine at B, then make sure to slay the other boss-leveled vampire at A in the northernmost room and claim your reward from the coffin and the locked chest. Remember to approach the large rock (C) in the northern end of the room, which will reveal a hidden path to another chest. When all is said and done, exit Barren Cave the way you came.
Occupants:
2 boss-level Vampires (50% chance Vampire Matriarch, 50% chance Vampire Patriarch) at locations A on map
4-5 Vampires
0-1 Undead
Treasure:
Doors and Gates:
There is one door (at Out) in/out of this zone, leading outside