Skyrim:Sheogorath
The UESPWiki – Your source for The Elder Scrolls since 1995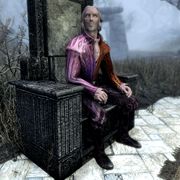 Sheogorath is the Daedric Prince of Madness. During the quest The Mind of Madness, he can be found "on vacation" in the mind of the insane Emperor Pelagius the Third, whom Sheogorath considers an old friend. The player then must escape the mind of Pelagius using Sheogorath's signature artifact, the Wabbajack, before Sheogorath will return to his realm.
In dialogue, Sheogorath mentions that he was present for all of the Oblivion Crisis and that Martin was possibly the "best" of the Septims. He then rattles off a list of seemingly unrelated objects: butterflies, a Fox, a severed head, and cheese. These likely reference the beginning of Shivering Isles, the Gray Fox of the Cyrodiil Thieves Guild and the severed head of Mathieu Bellamont's mother. The cheese may be in reference to Sheogorath's Daedric Shrine quest in Border Watch. While nothing can be stated with certainty, these comments, coupled with his remark that Sheogorath is a title "passed down from me to me", suggest he is the Champion of Cyrodiil.
Sheogorath wears the Sheogorath outfit and Sheogorath boots, and carries an iron dagger which he never equips or uses.
[edit]
Related Quests
This is the first appearance of Sheogorath without his cane.
Sheogorath is invincible and cannot be pickpocketed or harmed in any way. Even using the kill console command will have no effect. However, when you use the killall console command, Sheogorath will bend on his knees like a wounded essential character.
[edit]
See Also
For more information, see the lore article.