Skyrim:Cronvangr Cave
The UESPWiki – Your source for The Elder Scrolls since 1995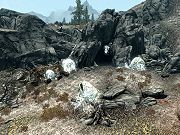 Cronvangr Cave is a medium-sized cave in Eastmarch containing frostbite spiders and vampires.
[edit]
Related Quests
NOTE:
Some radiant quests have a sizeable list of possible locations. These quests are not placed on individual place pages, and are instead listed at
radiant quest locations
.
[edit]
Interior
The interior of the cave is filled with frostbite spiders. In the first room, a small button on the wall can be found which will open a rock door to a cavern containing a wooden structure with several vampires. Be careful of a Flame Sprout Trap in the passage between the cave with the button and the one with the wooden shack. Although they are generally found sleeping, some of them may be awake, so be careful if you don't see them. The inside of the structure is strewn with viscera and gore. There are several corpses nearby, which the vampires may raise to help them fight. A copy of the Lockpicking skill book The Locked Room can be found on a table in the house. Two chests may also be found nearby: one located inside of the house and the other located behind the house, near the alchemy lab and arcane enchanter. A sapphire gem can be found on top of the barrel next to the chest behind the house.
The rest of the zone consists of a pathway leading down a cavern with a pool of water at its base. There are several small Frostbite Spiders along this path, and it is possible for one or more of the spiders to fall off the ledges and into the water below. The spiders will often become trapped in the water because the pathway out is fairly small and the AI does not seem to accurately target or navigate it. This also makes killing these spiders much more difficult. One chest can be found at the bottom of the water. A small pathway then leads to the second zone, Cronvangr Broodlair.
Cronvangr Broodlair contains more spiders and a Giant Frostbite spider. A small chest can be found after the first two spiders. It is blocked by two layers of spider webbing and can be easily overlooked. One boss-level chest can be found in the room with the giant spider. There is also a large egg sac next to it that can have enchanted items in it.
[edit]
Ore Vein Locations
A pair of leveled necromancers have taken to practicing their craft on a large, stone altar due east of the entrance to Cronvangr Cave, and will attempt to use the player for their next ritual. Scattered about the pools of hot water that surround the altar can be found a pair of burial urns, the partial skeleton of a novice Conjurer, and a few lootable Draugr corpses.
There is a corundum ore vein due west of the cave.
[edit]
Gallery