User:Emoboy64/Sandbox2
The UESPWiki – Your source for The Elder Scrolls since 1995
Respawn Time
10 days
Duchess
Syl
Console Location Code(s)
SENSHouseofDementia, SENSDuchessQuarters, SEDementiaGardenExterior
Location
New Sheoth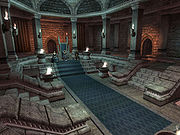 Sandbox2 is the southern wing of the Palace of Sheogorath, and the seat of power for the dukedom of Dementia.
The House of Dementia consists of three areas:
The House of Dementia proper, which contains the Ducal throne and the prison/torture chamber
The Private Gardens, an outdoor garden with Dementia flora and a reading area.
The Duchess' Quarters, which are locked.
The Private Gardens are locked and require a key to enter; the lock cannot be picked. If you choose to supplant the Duchess of Dementia in the Ritual of Dementia quest, you will be able to access the gardens. There is a bust of Sheogorath next to the door to the Duchess' Quarters; when the Duchess activates the bust, it retracts and reveals a ladder used to access Xirethard.
[edit]
Related Quests
The Ducal Quarters can be used as a house once the Ritual of Dementia is complete. There is no way to obtain these quarters if the player chooses to perform the Ritual of Mania.
[edit]
People