UESPWiki:News
The UESPWiki – Your source for The Elder Scrolls since 1995
This is where news for the main page is written, whether it be about the Elder Scrolls or about our site. If you would like to write news for the main page, simply create a header in the "Proposed News" section and write a brief news story underneath. Others will come by behind you and clean it up, and an administrator may feature it on the main page once it becomes brilliant prose.
Currently Featured News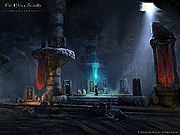 [edit] New ESO Wallpapers Released—

August 28, 2014
In preparation for the upcoming fourth update to the
Elder Scrolls Online
,
ZeniMax Online Studios
has released new ESO themed wallpapers, freely available to anyone who wants them. Besides their usual purpose as background art for a desktop, these new wallpapers also double as a hint towards what awaits adventurers in Upper Craglorn. You can read more about the new wallpapers
here
, or if you happen to be after some more ES wallpapers yourself, please see our
collection
of them.
[edit] ESO Loyalty Program Revealed —

August 21, 2014
To show their appreciation for long time subscribers, ZeniMax Online Studios has announced that any player who has remained subscribed to Elder Scrolls Online for a total of three months, excluding the initial time provided with the game and any other complimentary game time that has been received, will be given a High Hrothgar Wraith as a vanity pet. Additionally, ZeniMax has also confirmed that further rewards will be given to loyal subscribers for players who have achieved six months during with their subscription was active, although what those rewards will end up being has yet to be released to the public.
The program will officially start this September, and any eligible players will be informed via email. Players who have let their subscription lapse for a period of time, but intend to continue at a later time do not have to fear the possibility of missing out on any subscriber rewards, they are still eligible for the loyalty program. Newer players or ones who have let their subscription lapse will receive any loyalty rewards when they reach the milestones.
[edit] ESO Update 4 Coming in September —

August 18, 2014
Following on the tail of the third content update for
The Elder Scrolls Online
, the fourth update has been announced to come out in
September
. With the new update will come access to upper Craglorn, alongside a new trial for your adventuring party. Additionally, a new test for your abilities will come from the new Dragonstar Arena. To finish off this announcement, a new
teaser trailer
has also been released to showcase the new game content.
[edit] Update 3 Released —

August 10, 2014
[edit] ESO on Steam —

July 17, 2014
ESO
is now available for purchase on
Steam
. Steam trading cards are available for the game, and players who buy the
Imperial Edition
before July 21 will receive an in-game
Whiterun Wolfhound
vanity pet. Current customers will not be given a Steam key nor any way to obtain the Wolfhound.
[edit] New Veteran Crypt of Hearts Launched —

June 25, 2014
Today's patch for
ESO
marks the release of the new Veteran
Crypt of Hearts
, new field of view options, improved lighting, and the ability to pick up and use weapons and armor. The weapons and armor are of low quality, have no gold value, and yield very little inspiration if deconstructed, though they can be upgraded. Some other tweaks have been made to the game, which you can read about
here
.
[edit] Craglorn Launched —

May 23, 2014
The first additional content update for
The Elder Scrolls Online
has been released.
Craglorn
is a veteran adventure zone specifically tailored for four-player groups. 12-player Trials against deadly enemies with fantastic rewards are included.
[edit] ESO PS4 and Xbox One Versions Delayed —

May 8, 2014
The Elder Scrolls Online release for the PS4 and Xbox One has been delayed for around six months, due to problems adapting the game to those systems. Updates on progress, character transfers, and expected beta dates will follow.
A special offer has been created for those wishing to play the game as soon as possible; "anyone who purchases and plays the PC/Mac version of The Elder Scrolls Online by the end of June will have the opportunity to transfer their character(s) to either console version when they are released."
[edit]
Proposed News
None
[edit]
Past News
Archives