UESPWiki:Featured Images
The UESPWiki – Your source for The Elder Scrolls since 1995

Featured images follow the same nomination process as for Featured Articles, but as they appear in a different section of the main page, a separate series of votes is held to decide which images meet the required standard.
For an image to be eligible for Featured status, it must be used in a UESP article. This is to prevent specially-taken beauty shots from stealing the limelight.
A gallery of older Featured Images can be found here. Similarly, the archives of previous nominations can be found here. Note that not all failed nominations are included.
[edit]
Featured Image Process
[edit]
Nomination
Any registered member can nominate any image at any time. Nominated images should be of high quality and meet the site's image standards.
To nominate an image, list it on the bottom of this page with a three-tier heading, (===Example===), and briefly explain why you think the image should be given featured status.
Example:
[edit]
Voting
After an image has been nominated, any registered member can vote to support or oppose each nomination. Each member can only vote once for a given image, but a member may change his/her vote by striking out the original vote and replacing it with the revised vote.
To vote on an image, state whether you support or oppose the image for featured image status. A vote should be in bold, and all votes must be signed. For example:
* '''Support''': <Comment> --~~~~ or
* '''Oppose''': <Comment> --~~~~
Commenting with your vote is optional, but if you oppose a nomination, please state how the image must be improved to get your support for featured status.
If you are not yet ready to vote but would still like to add your thoughts, you may use:
* '''Comment''': <Comment> --~~~~ or
* '''Question''': <Question> --~~~~
And fill in your concerns or questions.
[edit]
Decisions
UESP Administrators will periodically make decisions on image nominations. Decisions will only be made if:
The image has been nominated for more than seven days.
Five or more votes have been placed.
Nominations not meeting these criteria will be left open until a decision can be reached.
Images whose nominations pass will receive featured image status on the front page for two weeks (which may be extended up to one month if there is a shortage of images), and receive a small bronze star (

) on the top right corner. If an image achieves featured status before the present featured image's time expires, it must wait its turn.
[edit]
Current Featured Image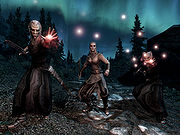 Next:
[edit]

Nominations and Votes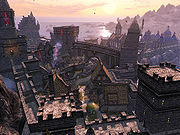 When I was browsing looking for an image I could nominate, I thought maybe Solitude would have the perfect image. So I went on the article, clicked on the image with a birds-eye-view of the city, and that's when I thought "OMG! This is SO realistic! This MUST be featured I tell you!" In my honest opinion, I would love to see this image reach featured status as a lot of hard work was done to get the shot just right. Such exemplar details that add a lot of realism include, but are not limited to—the chimney smoke, the buildings, mountain detail, the sun setting in the background, its reflection on the surface of the ocean, and last but NOT least—the birds flying around in the sky. I would really appreciate all your support people! Thanks!
Support: While there is a little bush thing at the very bottom and a couple of the birds are slightly messed up, I believe those are game issues. Plus they are really hard to notice and minor. Pyslocke needs to come back to give us more images (I think all of her nominated images were featured) ~

Ad intellige

 (talk) 04:48, 17 January 2015 (GMT)
Support: Psylocke knows her sh... uh... stuff! She's definitely one of the best photographers I've seen, and I'd lie if I said I didn't have a few of her pics on rotation as desktop images. -

damon

 

talk

♥

contribs

04:53, 17 January 2015 (GMT)
Support: A stunning view. It is one of these pictures you start wonder why no-one has nominated for Featured Image before. The only thing to comment on is that all high altitude pictures in Skyrim renders the sea horizon a tiny bit too high for a spherical world, but that is a general game issue, not specific for this picture. —MortenOSlash (talk) 08:13, 17 January 2015 (GMT)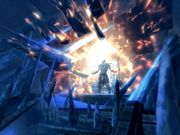 An awesome image.
Comment: This image was already nominated and no consensus was reached. I think we should defer to the previous judgement. —Legoless (talk) 16:59, 24 January 2015 (GMT)
Comment: I'll make this short. That was a long time ago. People have moved in and out of the wiki. New people have come, new people have left etc. This time it might just pass at being supported. I'm asking you — please can you give it a chance to be nominated again and not close this nomination early? –

Dragon Guard

  (talk) 18:38, 24 January 2015 (GMT)
Oppose: I love the image, but as many posters complained about the last time, it's just too blurry to be featured, in my opinion. If a similar but sharper shot were to replace it, my vote might change. –

Robin Hood

  (talk) 19:40, 24 January 2015 (GMT)
Oppose:: While the image is brilliant, the overexposure on the subject and the lower image quality make it a no from me. It could easily be re-done to get a sharper version, probably using the console to remove some of the atmospheric effects that the explosion has. --GodRaineTalk 19:45, 24 January 2015 (GMT)
Oppose: Looks good as a thumb, but way too blurry up close. ~

Ad intellige

 (talk) 06:00, 25 January 2015 (GMT)
Comment: If it's too blurry/blocky, why can't we get a re-upload? Doesn't make sense to me... –

Dragon Guard

  (talk) 10:22, 26 January 2015 (GMT)

Because a lot of our Skyrim image takers are retired, MIA, busy with other things, and/or can't get to this one particular moment at the drop of a hat, just because it's in an FI nomination. •WoahBro►talk 14:55, 26 January 2015 (GMT)

MIA? Haha — you're funny, WoahBro :) I don't know if that was meant to be funny, intentionally, but I thought it was, so I will leave it there. Maybe one day Psylocke will get around to re-uploading it to remove the blocky parts. After all, which would you rather have — a sharper image, or a blocky one? Because our aim is to upload the best images we can, I would recommend a sharper image. What do you think? –

Dragon Guard

  (talk) 15:02, 26 January 2015 (GMT)

Also, I've re-uploaded the image with a much sharper one, so you might want to start supporting it. Just for clarification, is the aspect ratio correct? Yes or no? –

Dragon Guard

  (talk) 18:02, 26 January 2015 (GMT)

As my re-upload was reverted for being overly-saturated, I have now made the image so it is not modified with saturation boosts. –

Dragon Guard

  (talk) 18:47, 26 January 2015 (GMT)

You uploaded exactly the same file. (Maybe not...it looks like our server's getting confused.) In any event, I don't think editing the existing image is going to help. Using image editing software to alter an image is discouraged beyond a certain point. Those levels of contrast and saturation are well beyond what you'd see in-game, so are inappropriate. –

Robin Hood

  (talk) 18:57, 26 January 2015 (GMT)

Would it have to be a completely new upload to resolve the blocky image, with a higher resolution monitor perhaps? Essentially the same as trying to turn a 360p image into a 720p one through advanced editing software? –

Dragon Guard

  (talk) 19:05, 26 January 2015 (GMT)

Yes. –

Robin Hood

  (talk) 19:07, 26 January 2015 (GMT)

And modifying the image to make it sharper proves impossible because the blocky image is too low-quality to turn into a sharp high-quality image; the poor parts clearly show through? –

Dragon Guard

  (talk) 19:10, 26 January 2015 (GMT)

Yes, you've understood the problem exactly. –

Robin Hood

  (talk) 20:07, 26 January 2015 (GMT)

OK then. Now that's out of the way I don't think there will be need for any further discussion. –

Dragon Guard

  (talk) 20:10, 26 January 2015 (GMT)