UESPWiki:Featured Images
The UESPWiki – Your source for The Elder Scrolls since 1995

Featured images follow the same nomination process as for Featured Articles, but as they appear in a different section of the main page, a separate series of votes is held to decide which images meet the required standard.
For an image to be eligible for Featured status, it must be used in a UESP article. This is to prevent specially-taken beauty shots from stealing the limelight.
A gallery of older Featured Images can be found here. Similarly, the archives of previous nominations can be found here. Note that not all failed nominations are included.
[edit]
Featured Image Process
[edit]
Nomination
Any registered member can nominate any image at any time. Nominated images should be of high quality and meet the site's image standards.
To nominate an image, list it on the bottom of this page with a three-tier heading, (===Example===), and briefly explain why you think the image should be given featured status.
Example:
[edit]
Voting
After an image has been nominated, any registered member can vote to support or oppose each nomination. Each member can only vote once for a given image, but a member may change his/her vote by striking out the original vote and replacing it with the revised vote.
To vote on an image, state whether you support or oppose the image for featured image status. A vote should be in bold, and all votes must be signed. For example:
* '''Support''': <Comment> --~~~~ or
* '''Oppose''': <Comment> --~~~~
Commenting with your vote is optional, but if you oppose a nomination, please state how the image must be improved to get your support for featured status.
If you are not yet ready to vote but would still like to add your thoughts, you may use:
* '''Comment''': <Comment> --~~~~ or
* '''Question''': <Question> --~~~~
And fill in your concerns or questions.
[edit]
Decisions
UESP Administrators will periodically make decisions on image nominations. Decisions will only be made if:
The image has been nominated for more than seven days.
Five or more votes have been placed.
Nominations not meeting these criteria will be left open until a decision can be reached.
Images whose nominations pass will receive featured image status on the front page for two weeks (which may be extended up to one month if there is a shortage of images), and receive a small bronze star (

) on the top right corner. If an image achieves featured status before the present featured image's time expires, it must wait its turn.
[edit]
Current Featured Image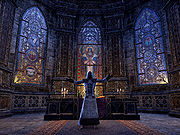 Next:
[edit]

Nominations and Votes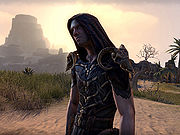 I think this is the best NPC portrait I saw in the game. The body texture feels almost 3D and the light is just spectacular. It is very hard to get those dark tones and shadows right, plus I like the contrast between the dark face and the sun behind it.
Oppose: It is well-framed, but the killer for me is the weird compression artifacts in the sky to the left of his head. I don't know if the image was saved with bad quality settings or what, but the jagged, pixelated lines there just detract from the whole image for me. -- Hargrimm(T) 20:19, 6 December 2014 (GMT)
Comment I rarely comment on these things, but I am definitely not seeing any weird jagged, pixelated lines at all... all I see are brightness and then mountains... Jeancey (talk) 21:45, 6 December 2014 (GMT)
Comment It may depend on your monitor settings. I see them quite clearly. The sun's shading between the top of the guy's head and the top of the mountain is very blocky. –

Robin Hood

  (talk) 01:10, 7 December 2014 (GMT)
Support: I like the way the lightsetting of the picture gives it a stunning effect, and I can not say I find pixelating coming through as prominent, even when zooming in to show it 100 %. —MortenOSlash (talk) 07:31, 7 December 2014 (GMT)
Support: I can't see anything there. I do see some blockiness to the right of his head when I push my laptop's screen back and look at it funny, but really I don't think that should matter. It's an interesting, well-shot image. —likelolwhat talk lulzy to me 09:10, 7 December 2014 (GMT)
Comment: He might be meant to look like that in-game, due to the context. He's not in his right mind and thinks he's a goblin during the quest where you see him, likely while drunk (the quest's about how he goes to be with the goblins after they steal his "special brew"). - Alarra (talk) 05:59, 20 December 2014 (GMT)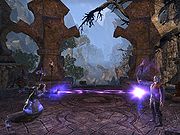 An "in-action" image that captures a heated encounter of two historical characters.
* Oppose: I would definitely have supported it if it did not have the companion marker by the candle over Sheogorath's hand. Once I discovered it I am not able to ignore it. —MortenOSlash (talk) 22:50, 15 December 2014 (GMT)
Update: I re-uploaded. Thank you for pointing it out! :) - Shuryard (talk) 23:07, 15 December 2014 (GMT)

Question: I still see the marker. Is it my cache that fools me? —MortenOSlash (talk) 05:59, 16 December 2014 (GMT)

Comment: I was getting it too. I purged the page and force-refreshed it, then it was fine. –

Robin Hood

  (talk) 06:43, 16 December 2014 (GMT)

Comment: And then it is gone, and I have withdrawn my opposition. —MortenOSlash (talk) 19:51, 16 December 2014 (GMT)

Support: Pretty cool image for a cool subject. I like it. —likelolwhat talk lulzy to me 05:54, 16 December 2014 (GMT)
Support: Morten, I think it is the cache. Clicking on the thumb still shows the marker, but clicking on the most recent version doesn't. I was kinda on the edge with this image, but I think that the intensity of the moment between these two characters is enough for me to support. •WoahBro►talk 06:14, 16 December 2014 (GMT)
Support: "Boooooring!" That's what Sheogorath yells at that moment. The image's not boring, though. I like it. --

Vordur Steel-Hammer

(

TINV1K

) 12:46, 16 December 2014 (GMT)
Support: With the marker gone, I can wholeheartedly support it. —MortenOSlash (talk) 19:51, 16 December 2014 (GMT)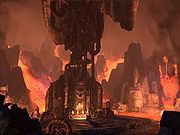 An eye-catching shot of a Dwemer ruin. I think it has that perfect mix of eerie and intriguing, much like the people that built it.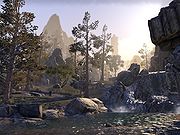 A simple but effective image. It shows the landscape quite well.