Tes4Mod:Stirk/Garkam gra-Both
The UESPWiki – Your source for The Elder Scrolls since 1995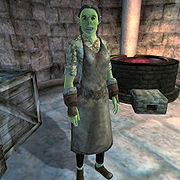 Garkam gra-Both, an Orc smith, is Fort Stirk's blacksmith and can be found in the stronghold's forge, in the East Hall.
As her jealous brother Rogkuroth will tell you: "My sister's the smith at the fort, she gets all the luck." Indeed, being the smith of a small garrison on an even smaller island means Grakam hardly has a tiring schedule. After a comfortable sleep in her bed in the fort's East Tower, at 8am she gets up and heads to the forge in the East Hall, where she spends the rest of the day loitering about, waiting for an improbable customer. At midday, she takes a two hour break to eat lunch. At midnight, she calls it a day and retires to her quarters for a good eight hours sleep.
Few customers also mean few septims, and Garkam makes do with a cheap set of lower-class clothing: handy blacksmith's pants, a matching apron and a pair of clogs. She does however treat herself to a pair of fur gauntlets and a bronze amulet. She also keeps three repair hammers close at hand.
She has 800 gold and a very low Mercantile, 5, which means you can rip good deals off her. She will buy and sell weapons, armor and miscellaneous items. Unlike most Cyrodiilic merchants, she doesn't sell any unique or rare items.
When you first meet her, she'll tell you about her Repair services: "I'm Garkam gra-Both, the only smith on the island. So if you need something fixed, come to me." She will offer her services when not eating or sleeping.
Her only private possession in the Fort is her bed in the East Tower.
In the CS, she is only referred to as Stirk Smith.