Skyrim:Zaria
The UESPWiki – Your source for The Elder Scrolls since 1995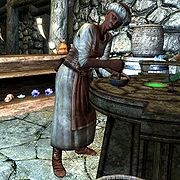 Zaria is a Redguard who immigrated to Skyrim in order to explore her passion for poisons more freely. She fell in love with Falkreath and named her store Grave Concoctions.
If you ask her why she named her store as such, she will give you an explanation: "I know it's a bit strange. Not exactly a name to bring comfort to the sick and ailing who come to buy a poultice or salve. But what you must understand about Falkreath is that our town is defined, for better or wrose [sic], by the large and ancient cemetery here. That's why the inn is called Dead Man's Drink, the farm is called Corpselight Farm, and so on. I suppose it's sort of a running joke."
She wears a set of merchant clothes, a pair of boots, and a hat. She is equipped with an iron dagger, and carries a key to her store, and a selection of common loot and gold.
[edit]
Related Quests
Zaria is a member of the warrior class, which determines the level of her skills.