Skyrim:Volunruud
The UESPWiki – Your source for The Elder Scrolls since 1995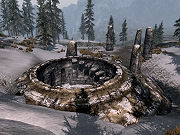 Volunruud is a tomb containing a word wall for the Aura Whisper shout, as well as the treasure and dead body of the Tongue Chieftain Kvenel.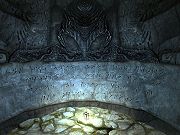 This ruin is supposedly the final resting place of one "Tongue Chieftain Kvenel", among others. Replicas of his two weapons are the key to his burial chamber. A man named Heddic, from Heddic's Volunruud notes, attempted to find his tomb, presumably for the treasure and historical significance. He met his untimely end at the hands of the dead who were "living" there.
[edit]
Related Quests
During the Dark Brotherhood quest The Silence Has Been Broken, your map will be updated with the location of Volunruud, as you need to speak to a certain person within the tomb. However, the mission doesn't require you to explore the whole area.
During Hail Sithis!, there is an urn full of gold in the room to the left that serves as a reward.
It is possible that the Spike Wall may get stuck on the skeletons connected to the wall.
[edit]
Volunruud
As soon as you enter the tomb, you will find Heddic's notes and what appears to be Heddic's skeleton. To the left, sitting on a throne, is a skeleton that will come alive and attack you if given the chance. Reading the notes begins the quest Silenced Tongues. At the bottom of the stairs you will find a room with three other exits. There is an iron ore vein on the floor of this room. One path leads to a small chamber containing an important NPC. Another descends to a chamber where the ceremonial axe is displayed above a throne. The third leads to the ceremonial sword chamber. The ceremonial sword and axe are required to enter Elders Cairn.
[edit]
Elders Cairn
Kvenel The Tongue is a ghostly boss in the Elders Cairn area. He has a draugr helper who can summon a frost atronach. Kvenel has a lot of health, so be ready for a fight. Among other rewards, Kvenel's two enchanted weapons, Eduj and Okin, are obtainable in his ghostly remains, along with a dragon priest's dagger farther on, past the word wall. There is also a chest over the arched walk and a second, hidden chest south of the arch. Use Whirlwind Sprint, or just climb around the pillar to the left of it, when facing the chest from the arched walk, to get to it.