Skyrim:Unmarked Places
The UESPWiki – Your source for The Elder Scrolls since 1995
This article could benefit from an image
of:
This page will benefit from images of at least some of the locations described.
See Help:Images for information on how to upload images. Please remove this template from the page when finished.
This article describes places of interest in Skyrim that are not marked on your map, are not represented by icons on your compass, and aren't directly related to any quests. Some of the places on this list do not have official names or titles, in which case unofficial names have been used to describe the places.
[edit]
Unmarked Bandit and Forsworn Camps
Southeast of Riverwood and west of North Skybound Watch is a camp inhabited by two bandits. It consists of two barrels, a sack, a chest and a bedroll around a campfire and cooking pot. A copy of the Block skill book Warrior can be found here. (map)
West of Dragonsreach there is a bandit camp under a cliff. A horse with a carriage is located here along with a chest, potions, skooma, and a copy of the Pickpocket skill book Aevar Stone-Singer. Attempting to open the chest will trigger the appearance of more bandits. (map)
West of Helgen is a camp consisting of a tanning rack, a chest, a potion of healing, a pair of hide boots, three bedrolls and a copy of the Light Armor skill book The Refugees. Upon opening the chest, three bandits will appear. (map)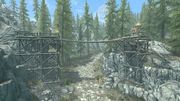 [edit]
Hunter, Fishermen and Other Camps
[edit]
Shrines
[edit]
Caravan Remains and Shipwrecks
[edit]
Houses
[edit]
Creature Lairs
[edit]
Unmarked Ruins and Monuments
[edit]
Smaller Places of Interest
East of Moss Mother Cavern is the body of a Dark Elf lying against a pile of rocks. Sitting near the body is a dagger lying next to a pool of blood as well as a bag of gold.
North of the Guardian Stones lies a deer skeleton. Between the ribs of the skeleton lies a flawless emerald. (map)
Northeast of the Twilight Sepulcher is a grove of eight white cap mushrooms aligned in a circle. In the centre of the circle sits a bloodied skull, a staff, and a copy of the Archery skill book Father Of The Niben. (map)
The body of Yisra, a deceased College of Winterhold student, is found south of Yngvild. Yisra's necklace, blue mage robes, a pair of boots, and an iron dagger can be found on her body. A copy of Spell Tome: Flame Cloak is found near her body. (map)
The body of Rundi, a deceased College of Winterhold student is found east-southeast of Winterhold lying on a circular stone altar. There are some items on the altar itself, such as Rundi's dagger, a few alchemy ingredients, a soul gem, and a copy of the Alchemy skill book Mannimarco, King of Worms. You can find a set of blue mage robes and a pair of boots on Rundi's corpse. A Staff Of Ice Spikes may also be found lying on the ground. The altar is surrounded by frost runes. (map)
East of Talking Stone Camp, lying on an island at the base of a waterfall is the corpse of a Dunmer alchemist. He is wearing black mage robes and boots, and carries a dagger and a nirnroot. (map)
Northeast of Bleakwind Basin, protruding from a small pool is a skeletal arm clutching a leveled sword. This is a reference to The Lady of the Lake from Arthurian folklore. (map)
Northeast of the Wreck of the Winter War lies a skeleton, six gold ingots, a random enchanted dagger and a copy of the Pickpocket skill book Beggar. (map)
North of Sleeping Tree Camp lying next to a small pool is a mammoth skeleton. Curiously, there is a human skeleton lying within the mammoth skeleton. (map)
Northwest of Fallowstone Cave, partway up the mountain slope, there is an unmarked clearing with a silver ore vein and an orichalcum ore vein. A copy of the Illusion skill book Incident at Necrom is well-hidden at the base of one of the trees on that slope. (map)
North of The Tower Stone are some skeletal remains lying next to a chest, a flag, and a copy of the Heavy Armor skill book The Knights of the Nine. (map)
West of Dawnstar along the northern coastline, within bowshot of the Wreck Of The Brinehammer, there is a small overturned boat guarded by mudcrabs. Under the boat is a copy of the Alteration skill book Daughter of the Niben, a scimitar, a pair of fine boots, and a knapsack containing random loot. In the immediate area are four Nordic barnacle clusters and three spiky grass plants that can be harvested for their respective ingredients. (map)
South of Hillgrund's Tomb is a large fallen tree bridging a tributary of the White River that runs between two sheer cliffs. Standing guard on this log is a bandit, who will only attack if you get too close. A corpse of another bandit lies on a small beach below the bridge, with a dagger, amulet, and coin purse lying next to it. The body of a third bandit can be found on the northern cliff, next to the remains of a tree which conceals a locked chest and a copy of the Illusion skill book The Black Arts On Trial. (map)
West-southwest of Knifepoint Ridge, if you climb the ridge to the top, you'll find the remains of some person. The skeleton has a leveled bow and a knapsack, which are splattered with blood. A bone meal and a small amount of gold can be found on the skeleton. (map)
Between Reachwater Rock and Kolskeggr Mine there's an abandoned rowing boat at a bend of the river. In the boat are some bottles, an apothecary's satchel, an adept-level locked strongbox and each of the following gems—emerald, garnet, flawless garnet, ruby, flawless ruby and flawless diamond. Next to the boat, in the river, is a chest and two mead barrels. (map)
To the east of Greenwall Cave's main entrance (the one exterior to the fort), there is a caged wolf. If you release the wolf, two trappers will appear and attack you, with the wolf siding with you against them. If the wolf manages to survive the fight, it will not attack you, and will remain near the cage. (map)
To the west of Loreius Farm up the hill is a small clearing littered with the remains of mammoths. Two poachers can be found here, and will turn hostile if you get too close. (map)
To the west of Saarthal, there is a mammoth partly encapsulated in a block of ice, which can be looted for a mammoth snout. Its body is pierced with five Dwarven arrows, a leveled battleaxe, and a large bolt from a Dwemer ballista. There is an iron ore vein and an orichalcum ore vein nearby. (map)
North of Southfringe Sanctum lies some skeletal remains pierced with an iron war axe. Next to it is a copy of the Conjuration skill book The Warrior's Charge which is resting against an unlocked chest containing leveled loot. Immediately west of here lies a silver ore vein. (map)
West of Whitewatch Tower is a novice-locked strongbox in the midst of a few fallen stone walls. (map)
Southeast of Karthwasten, at a point roughly between Four Skull Lookout and Sundered Towers, there is a locked strong box with a glass dagger leaned up against it hidden in the center of a pile of driftwood. (map)
Southeast of Bleakcoast Cave there are two dead hunters, two dead horkers, and a live horker. One of the hunters carries Treasure Map VIII. There are four ore veins is close proximity too. Three iron ore veins—one east, one west, and one south—and a quicksilver vein to the southeast. (map)
On the mountain high above the Great Lift at Alftand, there is a tattered flag flying. At the base of the flag is a leveled mace, a leather helmet, and a satchel. Further back on the mountain is a silver ore vein. (map)
West of Sunderstone Gorge and south of Fort Sungard is a dragon barrow. About 100 feet south of the dragon barrow is a "fairy circle", a ring of bare ground surrounded by several varieties of harvestable mushrooms. (map)