Skyrim:Ulfberth War-Bear
The UESPWiki – Your source for The Elder Scrolls since 1995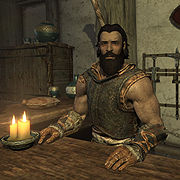 Ulfberth War-Bear is a Nord blacksmith living in Whiterun. During normal business hours (8am to 8pm), he can be found inside Warmaiden's, the armory he runs with his wife. He handles sales of their interior stock while she does all the work creating it. After closing time, he heads towards the Bannered Mare for a few hours of dinner and drinking.
He will greet you with "Welcome to Warmaiden's. Now don't let the name worry you - we got plenty o' steel for fightin' men." or "Welcome to Warmaiden's. Now you, my girl, have definitely come to the right place." if you are female. He always ends the conversation with "Good doin' business with ya."
If you ask him who forges his arms and armor, he will reply "Adrianne. At her forge, just outside. Place is named after her. "Warmaiden's." It's a childhood nickname, given by her father. What I hear, she was playing with swords even back then. Anyway, our wares are strong and the prices fair. What else matters?" If Adrianne is dead when you ask this, he will reply "Since Adrianne's death, I've had to buy them from the Khajiit caravans. Tried making some myself, but I'm no good with the forge and anvil. Anyway, our wares are strong and the prices fair. What else matters?"
Ulfberth may spawn and become stuck on a hill near Breezehome in Whiterun and will not open his shop for business.

Use the tc console command to move the NPC away from this spot.
Attack him, causing him to become hostile momentarily and move from this location, though this is considered a crime. He will then eventually open his shop. It may take several "respawn cycles" for his vendor gold to respawn.
You may also sprint into him to push him from the spot on the hill. This works as a better alternative to attacking him, as you don't receive a bounty. Once you've nudged him a bit, he'll continue into his shop.
Use Unrelenting Force to knock him off his perch.