Skyrim:Treva's Watch
The UESPWiki – Your source for The Elder Scrolls since 1995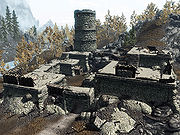 Treva's Watch is a fort situated to the southeast of Ivarstead and to the west of Riften.
It is a medium-sized fort initially occupied by a large number of leveled bandits, including two bandit chiefs. If you have not already obtained it, you may wish to get the quest Infiltration before entering for the first time. The quest directs you to access the watch through its secret entrance zone: Treva's Watch Escape Tunnel.
The watch contains bear traps, a pressure-plate activated spiked gate (which can cause you to become stuck, if not kill you), dart traps, and overhead fire pots. It is possible to use the traps against the bandits—the spiked gate trap being especially lethal. Given that it houses smithing equipment, you will find iron ingots and ore sitting around in several locations.
The main courtyard area comprises several levels and is initially occupied by several types of bandits, including archers and some heavy hitters. Just inside the main entrance is a corridor rigged with a trap. This leads through a kitchen into a large banquet hall. Past this are stairs down to the base of the large tower outside. From here are two paths, one of which is a circular staircase rising to the top of the tower where resides one of the bandit chiefs, the Enchanting Table, and the fort's boss chest. A copy of the Enchanting skill book Twin Secrets can be found on a table at the top of the tower. On another table in the same room is the rare Enchanter's Elixir.
The other path leads down into the fortress. There's a large spiked gate trap at the bottom of the passage that may be sprinted past. Through here are the kitchens and access to the watch's second zone, Trava's Watch Escape Tunnel. There are a lot of enemies in here, and you will quite probably encounter several battles with multiple enemies in close quarters.
The tunnel zone contains the smithing room, as well as a storeroom containing two dead Nords and an Imperial, related to the Infiltration quest storyline. Also to the left is a set of stairs leading to a hallway lined with bear traps.
[edit]
Related Quests
NOTE:
Some radiant quests have a sizeable list of possible locations. These quests are not placed on individual place pages, and are instead listed at
radiant quest locations
.