Skyrim:Snow Veil Sanctum
The UESPWiki – Your source for The Elder Scrolls since 1995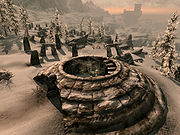 Snow Veil Sanctum is a medium-sized Nordic ruin north-northeast of Windhelm containing draugr.
It's the hideout of Karliah, the supposed murderer and betrayer of the Thieves Guild. It's loaded with traps set by Karliah for Mercer Frey. It's also rigged with bone chimes to wake the draugr. It holds a word wall yielding part of the Disarm shout. It is full of leveled draugr, along with at least one undead boss at the word wall.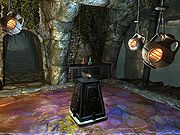 [edit]
Related Quests
There is an alternative entrance to the northwest that is inaccessible until completely running through the ruin.
The entrance is locked and is inaccessible prior to Speaking With Silence.
Even after finishing the quest, followers will not join you inside- so you have nobody to unload items on.
The Model Ship, an item for the quest The Litany of Larceny, is located on a pedestal in the middle of a room in the southeastern section of the Catacombs section. It is in an alcove with an explosive fire trap and may be difficult to find if the explosion is set off since it may end up being blown behind the shelves in the room.
Two iron ore veins can be found in the canyon to the north.