Skyrim:Mor Khazgur Mine
The UESPWiki – Your source for The Elder Scrolls since 1995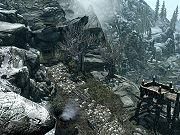 Mor Khazgur Mine is a small orichalcum mine attached to the Orc stronghold of Mor Khazgur.
Mor Khazgur Mine is located on the hill overlooking Mor Khazgur and is rich in orichalcum ore; the mine hosts seven orichalcum ore veins, as well as a few ingots and pieces of ore that any thief could easily steal away without being noticed. Shuftharz will buy orichalcum ore from you.
[edit]
Related Quests
[edit]
Notable Loot
Two orichalcum ingots and one orichalcum ore (all owned) at the bottom of the slope, in the first room.
Three more ingots are located outside the entrance to the mine.
[edit]
Vein Locations
Four veins in the main room: two on the ground on the first platform and two on the walls at the second platform.
Two veins down the slope from the first platform in the main room.
One vein at the bottom of the slope from the main room.