Skyrim:Madesi
The UESPWiki – Your source for The Elder Scrolls since 1995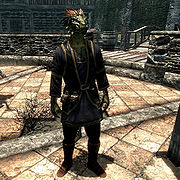 Madesi is an Argonian pawnbroker and a stall merchant selling jewelry in Riften. He has a rivalry with fellow merchant Brynjolf, a member of the Thieves Guild whose "miracle cures" have been drawing business away from Madesi. He eats at Haelga's Bunkhouse from 10pm to midnight, then goes to sleep in Beggar's Row. According to some dialogue between Madesi and Svana Far-Shield, he sleeps there because of the hostility he faces elsewhere due to his race. He asks for your help in collecting supplies for a new ring he wants to make.
Madesi wears a set of merchant clothes and a pair of boots, and is equipped with a leveled dagger which can be up to Elven quality. He carries the key to his stall and a selection of common loot and gold.
If playing as an Argonian, he will respond with "Good journey, Marsh-friend" when walking away after doing business with him, unless the Argonian player is a vampire in which case he will use the term "land strider".
[edit]
Related Quests