Skyrim:Lost Tongue Overlook
The UESPWiki – Your source for The Elder Scrolls since 1995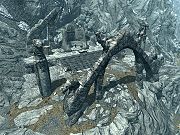 Lost Tongue Overlook is a dragon lair on the Jerall Mountains south of Riften.
This lair is on a ledge at the top of a winding path. It is guarded by a leveled dragon after Dragon Rising has been completed. Before this it is home to a boss necromancer and his minions. On the way up to the lair, there is a spellcaster trap that unleashes the Ice Storm spell when triggered. There is a boss chest in the ruin with leveled loot. There is a word wall in the center of the lair which teaches you part of the Dismay shout.
[edit]
Related Quests
NOTE:
Some radiant quests have a sizeable list of possible locations. These quests are not placed on individual place pages, and are instead listed at
radiant quest locations
.
It is possible to ride a horse up the east slope of the hill, and avoid the trail and spellcaster trap altogether. The only non-burnt corpse is located at the point where you crest the hill onto the Overlook.
At times the spellcaster trap will not appear (or the trap will be there but the soul gem won't); however it will continue to operate with no way to disable it. ?
It is possible that the spellcaster trap continues to operate even though the soul gem was shot down from the trap. Sometimes this can happen if you make a follower pick up the soul gem or if it get's dislodged without picking it up. Walk around the outside edge of the pillar to avoid the spell. ?
The dragon may become stuck to the word wall, and will be invincible. Revisiting the area at a later date appears to fix this ?
Sometimes the sound effects will play, however you may not be able to obtain the word of power from the wall due to the word not lighting up. ?