Skyrim:Kharjo
The UESPWiki – Your source for The Elder Scrolls since 1995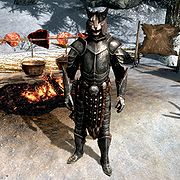 Kharjo is a Khajiit warrior who guards and travels with the rest of the trade caravan led by Ahkari. He can be found outside either Dawnstar or Riften, and walks the route in between.
He is missing a family heirloom—the Moon Amulet. If you can find it for him, he can be recruited as a follower. Kharjo can later be recruited into the Blades. When told to depart, or after waiting for too long, he will return to his original caravan.
Kharjo wears a set of steel plate armor, including matching pairs of gauntlets and boots. He is equipped with a steel mace and a steel shield, and carries a selection of common loot and gold. After you return his amulet, Kharjo will wear it as well.
[edit]
Related Quests
[edit]
Dialogue
Trigger
Line
When spoken to
"If anyone sneaks up on us, I'll smell them coming. Or I might not. We'll see."
"Khajiit guards your back."
"You're taking us somewhere warm, I trust?"
Enemies are nearby
"Something smells foul."
When nearing an object/room of significance
"By the Twin Moons..."
When approaching a cave
"We've found a cave. I don't think there are warm fires and friendly faces inside."
When approaching a Nordic Ruin
"The old Nords sure did love their stonework."
When approaching a Dwarven Ruin
"By the Mane, look! A Dwarven city. Still sitting here after thousands of years."
When healed
"Ah! I feel like I just woke from a nap."
A Courage spell has been cast on him
"Even my claws feel sharper."
When asked to trade items
"I will shoulder some of the burden."
When told to wait
"Head on, then. I will keep an eye out."
When talked to while he is waiting
"You ready to get going?"
When told to follow
"Khajiit walks in your footsteps."
When told what to do
"It will be done."
If told to do an impossible command
"Not possible."
During battle
"I'm going to... Put you down!"
"Ha! Is that all you've got?"
"I'll... Kill you!"
"Die, damn you!"
"Hsssss!"
"Is that your best? Huh?"
During battle with a dragon
"Die, dragon!"
Kharjo is one of only two Khajiit followers available in the game, the other being J'zargo.
In dialogue, when asked about guarding the caravan, Kharjo incorrectly refers to Ahkari as a male.
If you accept Kharjo as a follower, you can take back the amulet from his inventory.
Like all Khajiit, Kharjo cannot be married.
Kharjo has the Silent Roll perk but he does not use it.
kharjo doesn't always walk with you but a good distance away