Skyrim:Ilas-Tei
The UESPWiki – Your source for The Elder Scrolls since 1995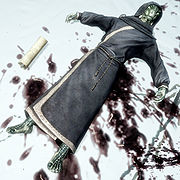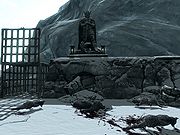 Ilas-Tei, an Argonian assassin, was one of Phinis Gestor's missing apprentices. You will find him dead in the arctic reaches between Ysgramor's Tomb and Septimus Signus's Outpost, next to a shrine of Talos (map).
His body is surrounded by skeevers (most of which are already dead). On Ilas-Tei's body you will find blue mage robes and Ilas-Tei's ring. Nearby is a copy of the Alteration skill book Breathing Water. There is a Scroll of Calm near his body, as well as a Scroll of Fury near the cage. This indicates that his death might be the result of an experiment that went terribly wrong.
If you pass the shrine and do not loot his corpse during your first visit, his body will disappear once the area respawns, making his ring unattainable if you are collecting the missing college apprentices' various items.
Phinis Gestor refers to Ilas-Tei as a female, but the body found is male.