Skyrim:Hunter
The UESPWiki – Your source for The Elder Scrolls since 1995
This page or section is incomplete. You can help by adding to it.
Article has no infoboxes and locations of dead hunters in Skyrim.
For more information, see the help files, the style guide, and this article's talk page.
This article is about hunters in the original version of the game. For hunters in the Dragonborn expansion, see Hunter.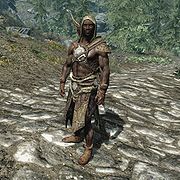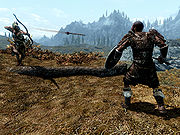 Hunters are friendly humans who can be found in the wild, stalking and attacking wildlife such as elk. They will also help kill any wildlife you are attacking. They traverse the wilds alone or in small groups, sometimes accompanied by dogs.
They carry a hunting bow and some iron arrows, and can usually be traded with.
Hunters are automatically aggressive to most wildlife and will attempt to kill them.
When traveling the wilderness, occasionally a fugitive can be seen being pursued by a hunter. The fugitive will approach you and give you an item (usually rare and enchanted). Moments later, the hunter will come by and ask which way the fugitive went. You can either tell the truth, lie, or give him the item. After the conversation, the hunter will most likely find the fugitive and kill him.
Hunters will turn on your horse. When ridden, the hunters show no interest in the horse, but will attack the horse the moment you dismount. Care should be taken when dismounting a horse in the wild near hunters to avoid this issue.
Some hunters can be found at unmarked camps at which you may trade. Sometimes, the camp will be empty (for whatever reason), and you can find a horse to ride there.
Some hunters are infected with lycanthropy, and change into werewolves when you encounter them at night. They become hostile and attack when in werewolf form.