Skyrim:Four Skull Lookout
The UESPWiki – Your source for The Elder Scrolls since 1995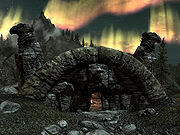 Four Skull Lookout is a small Nordic ruin located between Karthwasten and Red Eagle Redoubt, east of Blind Cliff Cave, containing bandits. It is one of the three ruins that you have to visit for the related quest.
The ruin contains a single chest containing leveled loot next to the campfire, with a pot hanging over it. Two bed rolls can be found around the campfire. There is a chair outside the ruin for one of the bandits, as well as a pedestal which is used for the related quest.
There are three juniper plants around the ruin, and a bird's nest lodged on the southwest side of the ruin. One hanging moss plant can be found to the left of the east entrance.
[edit]
Related Quests
NOTE:
Some radiant quests have a sizeable list of possible locations. These quests are not placed on individual place pages, and are instead listed at
radiant quest locations
.
Directly heading west from the ruin towards the cliff, on a promontory, a shrine of Zenithar can be found along with minor loot.
The bandits do not seem to respawn.[verification needed — See discussion]
A silver ore vein can be found amongst the rocks just in front of the pedestal.