Skyrim:Colette Marence
The UESPWiki – Your source for The Elder Scrolls since 1995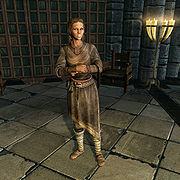 Colette Marence, a Breton monk, is an instructor at the College of Winterhold, and can be found in her room on the second floor of the Hall of Countenance, especially during the later hours of the night. During the day, she can also sometimes be found sitting in the Arcanaeum, especially in the morning. She is the expert trainer in Restoration, and can sell Restoration spells as well. She wears master robes of restoration and a pair of boots.
She is extremely paranoid about being ridiculed by her peers at the college due to her study in Restoration magic. Occasionally other mages gather in Hall of the Elements and Colette gives them a lecture on benefits of Restoration magic.
[edit]
Related Quests
[edit]
Standard Merchandise
This is the merchandise found in Colette's merchant chest. These items are only available if purchased from the merchant; they cannot be pickpocketed or stolen. They are restocked every two days.
[edit]
Spells
Colette can cast the following spells:
It seems that when Colette is trying to get past the protective ward in The Eye of Magnus she can actually run off the bridge if you don't get it down fast enough. She will lose her path if this happens and remain where she lands until found. Using Detect Life under the bridge of the college should allow you to find her if this is the case. By pushing her far enough towards the town (not the college), she will eventually pick up the path back to normal life.