Skyrim:Cedran
The UESPWiki – Your source for The Elder Scrolls since 1995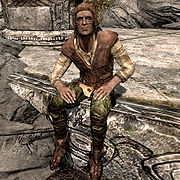 Cedran is the Breton hostler at Markarth Stables. He wears farmer's clothes, boots, and a hat. He carries an iron dagger and a key to Markarth Stables.
If you ask Cedran about purchasing a horse, he will say "You need a reliable horse in the Reach. That's what we have. " After buying a black and white horse for 1000 gold, he'll tell you "You treat a horse well, it'll take you to Oblivion and back."
[edit]
Dialogue
Player
Cedran
Who's in charge of Markarth?
That would be Jarl Igmund. Young for a ruler of a Hold, especially the Reach.
Wasn't surprising he stayed loyal to the Empire. His father helped capture Ulfric Stormcloak after the Markarth incident.
What's the Markarth Incident?
It's the whole reason Ulfric revolted against the Empire. Well, the first reason anyway.
Forsworn had taken over Markarth, and Ulfric and his men drove them out. Empire promised they'd be free to worship Talos afterwords.
Pity no one told the Elves. Whole group of those Thalmor came and they demanded Ulfric's arrest.
Who are the Forsworn?
Before the Nords came, we worshipped the old gods, had our own kingdom.
Times have been good and bad since then, but some folks couldn't handle not ruling their own land. Those are the Forsworn.
The Forsworn follow the old ways, but some of those were best forgotten. Blood sacrifices, communing with Daedra. it's the road to ruin.
[edit]
Related Quests
NOTE:
Some radiant quests have a nearly unlimited list of possible quest targets, or can be randomly initiated by nearly any NPC in the game. These quests are not placed on individual NPC pages, and are instead listed at
radiant quest NPCs
.